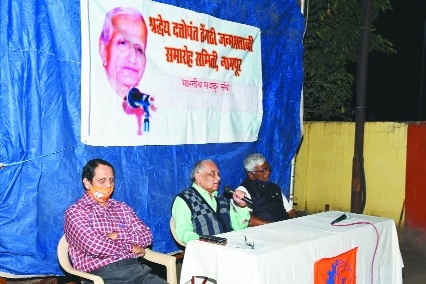 Business Bureau :
Vasantrao Pimplapure, All India General Secretary of Varishtha Nagrik Parisangh, ex Treasurer of Bharatiya Mazdoor Sangh (BMS) and Senior Thinker said, "Contact with member is heart of the organisation and if exchange of views is there then there will be no struggle for expansion of organisation." Pimplapure was recently speaking as the chief guest at the 'Shradheya Dattopant Thengadi Centenary Year' concluding programme at BMS office Nagpur.
"Nation first, industries second and workers last this 'Tri-Sutri' of BMS led by Shraddheya Dattopant Thengadi was very important for the industries, nation and workers. If any union is not related to any political party then they fight fearlessly for the betterment of workers. This faith of Dattopant made BMS to fight in the interest of workers," said Pimplapure. The programme was conducted under the leadership of Ramesh Ballewar, President of BMS Vidarbha. Prakash Sowany, General Secretary BMS Vidarbha said that the inaugural function of this centenary year was held on November 10, 2019 at Nagpur.
After this, many programmes were arranged all across the nation and Vidarbha. But, due to Corona pandamic it is restricted. This concluding programme was also arranged with limited guests due to Coronavirus." At the end of function Ramesh Ballewar, President of BMS Vidarbha had inaugurated the photo of the new proposed building of BMS Vidarbha Pradesh at the hands of Trustee Nanasaheb Khedkar. Ramesh Patil, and Ramesh Ballewar gave thanks to all present.
On the occasion, Srimati Nita Chobe, Vice President of Central BMS, Ashok Bhutad, Working President, Ram Batve, Krishna Uddhar, Prakash Wanikar, Ram Telang, Gajanan Gatelevar, Ganesh Gullahne, Prakash Mohitkar and Suresh Choudhari, Media Incharge and others were present.