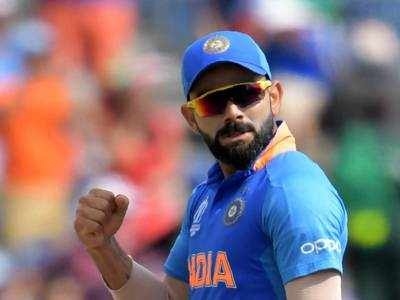 MEDIA in Australia is in a tizzy over Indian skipper Virat Kohli's limited appearance in the tour Down Under. Kohli is set to leave for home on a paternity leave after the first Test, a step that has been much appreciated by the cricket world. Being with the family at an important juncture is a right well earned by the Indian captain. However, it is his availability for a small series that has created a buzz among the Australians. It is after a long time, since Sachin Tendulkar ruled the collective conscience of the opponents, an Indian player has become a focal point, a centre of attraction.
Whether it bodes well for the Indian team or creates unnecessary pressure on the other players will be known soon in one of the most gruelling cricket tours. The media part of Kohli's utility is quite different from the cricketing part. A certain broadcaster in Australia has gone to the town boasting of its exclusive rights of the limited overs series, dedicating the T20 and ODI series as Kohli Special. Never before has Australia seen such larger than life projection of an opposition player in so many years. The hype has divided opinion and it has also brought into focus the commercial value a player can earn for himself in these times where highly material concepts shape the organisation of cricket matches.
It is not merely about Virat Kohli, the superlative batsman. It is more about Brand Kohli that rules the market for its distinct flamboyance. The real test is beyond these commercial optics when Kohli returns home from a Test series that is going to define Indian cricket's future journey in many aspects. The Indian captain is a vital cog in India's wheel in the series which is surely be a battle of equals following the redemption of fallen heroes Steve Smith and David Warner. A full-strength Australia will be more than a handful for India without Kohli. There lies a massive opportunity for the people around the captain to take leadership role and surprise Australia. Last tour has seen what a certain Cheteshwar Pujara can do with his resoluteness.
On Kohli's off-day, Pujara took over the responsibility with a sage-like calmness. He would look to doing it yet again in his modest manner. Focussing on a single target can be a double-edged sword, a fact Australia has learnt the hard way against India in the past meetings. When all guns were trained on Tendulkar, an unassuming giant called VVS Laxman had effected spectacular heists on almost every tour. The present Indian team also has players of similar abilities who complement Kohli on tough overseas outings. Pujara has remained a lynchpin, Ajinkya Rahane can turn tables on the opponents without a hint, young Hanuma Vihari has already proved his mettle in the limited Test opportunities.
In a way, India would be happy if the hype is centered around Virat Kohli. There is no denying the fact that Kohli's absence will have its effect on the team morale. He has been a batsman for all seasons and a void in the middle-order can upset all calculations for India. Kohli's leadership would also be missed in the most-challenging Test series. But India can take heart from the fact that in Kohli's absence, Rahane had passed the test as a stand-in skipper, that too against Australia. A new challenge beckons!