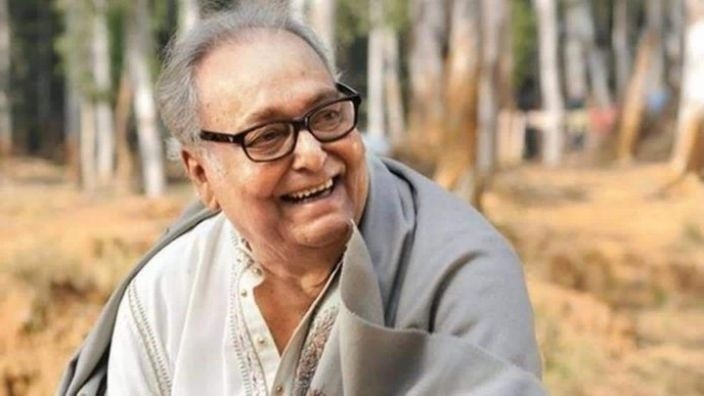 KOLKATA :
LEGENDARY actor Soumitra Chatterjee, who strode Bengali cinema like a colossus and took it to the world, died on Sunday after losing a fierce forty-day battle with post-COVID ailments, bringing curtains down on the final chapter of Bengali cinema's golden era. He was 85. The thespian is survived by wife Deepa Chatterjee, daughter Poulomi Basu and son Sougata Chatterjee. The actor was admitted to the hospital on October 6 after he tested positive for the infection. He was later shifted to ICU as COVID encephalopathy set in, affecting his central nervous system and causing renal dysfunction.
He recovered from the infection subsequently, but his health condition did not improved, despite several plasma therapies, dialysis and tracheotomy. Doctors had on November 13 said that he stopped responding to treatment. "We declare with a heavy heart that Shri Soumitra Chattopadhyay breathed his last at 12.15 pm at Belle Vue Clinic today. We pay our homage to his soul," the hospital said in a statement. Bengal bade a tearful adieu to iconic actor Soumitra Chatterjee as thousands of people walked following a flower-bedecked hearse which carried his body to a crematorium where his mortal remains were consigned to flames with full State honours here on Sunday evening.
West Bengal Chief Minister Mamata Banerjee, along with her ministerial colleagues and a host of film personalities, walked in the procession with others singing Rabindranath Tagore's song, "Aguner parashmoni chhoao praane" (the touchstone of fire will turn us pure). As the last journey ended at Keoratala Crematorium, Chatterjee was given a gun salute and his mortal remains were consigned to flames in presence of the Chief Minister and other dignitaries. Paying homage to the celebrated actor, the WB Chief Minister said Chatterjee was a "fighter who will be celebrated for his work".
In several parts of the State, people, brushing aside COVID-19 scare, took out processions with photographs of the veteran actor, as a mark of respect. Prime Minister Narendra Modi condoled the death of Chatterjee and said his demise is a colossal loss to the world of cinema, and cultural life of West Bengal and India. President Ram Nath Kovind said the Indian cinema has lost one of its legends.