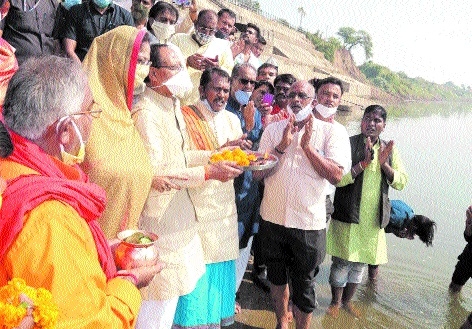 CM Shivraj Singh Chouhan and wife Sadhna Singh, performing
puja of Narmada river in Jait Village of Sehore on Monday.
Staff Reporter :
Chief Minister Shivraj Singh Chouhan along with wife Sadhana Singh performed 'Puja' at Kheda-Mata Temple, Hanuman Temple and Maa Narmada Ghat in Jait village of Sehore district on Monday. He had darshan at Mahakal temple of village and performed "Puja-Arcahana" of Dooj at his residence with family. Member of Parliament Ramakant Bhargava, Collector Ajay Gupta, public representatives and officers were present on the occasion.