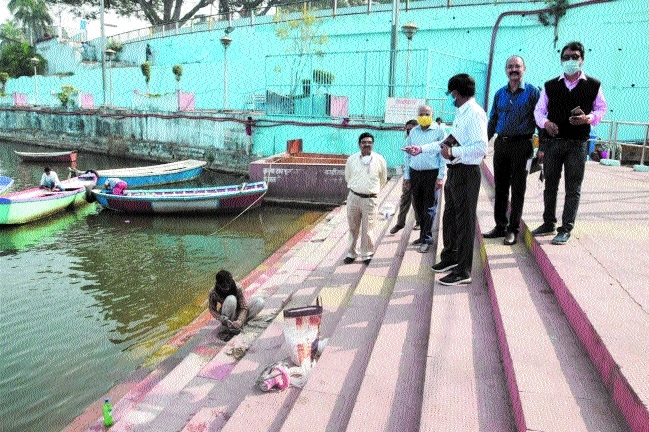 BMC officials inspecting ghat for Chhath Puja.
Staff Reporter :
On Tuesday, inspection was carried out by Bhopal Municipal Corporation officials at Sheetal Das ki Bagiya for Chhath Puja preparations. MLA Krishna Gaur was also present during the inspection. Special care has to be taken in this Mahaparva for cleanliness and purity, in which the use of plastic is prohibited. Only biodegradable material will be used for decoration of ghats. Bamboo made itineraries will be are used. Chhath Ghat cleanliness campaign was conducted from 10 am on the ghat.
On this occasion, the high mast light were installed in the premises by Krishna Gaur. Also, administrative officers of the district administration and officers of the municipal corporation were present in the temple premises. Marking and numbering was done for devotees. After registration and ensuring COVID-19 guidelines altar construction and places will be given for Chhath Puja at the ghat.
Bihar Cultural Council Union of BHEL is the largest cultural and non-political organisation associated with Bhopal, in which two lakh people of Bhojpuri, Maithli and Magahi speakers of Bhopal are involved. Council General Secretary Satendra Kumar informed that this Mahaparva lasting for four days, starting from Nahai-Khay on November 18.