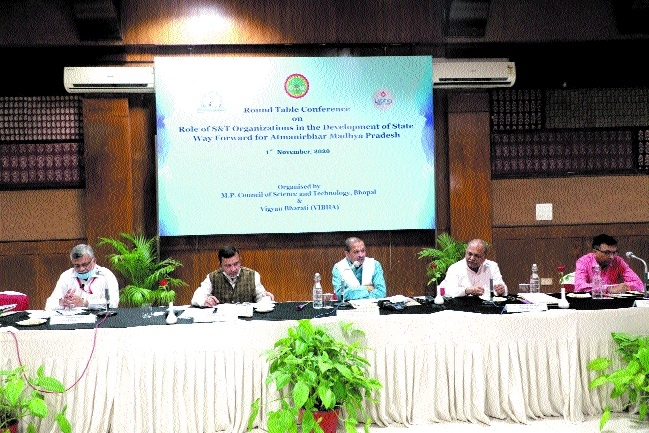 MSME Minister Om Prakash Saklecha addressing a round table conference on Atmanirbhar MP at a hotel in Bhopal on Sunday.
Staff Reporter :
Conference of Science-Technology & MSMEs for Atmanirbhar Madhya Pradesh held
"Small units will be expanded in Madhya Pradesh by linking research and development of Science and Technology with micro, small and medium enterprises, which will also inspire the country as a model," said Minister for Micro, Small, Medium Enterprises and Science and Technology Om Prakash Sakhlecha during the round table conference held on Sunday.
The conference was held on the topic 'Role of S&T Organisations in the Development of State pWay Forward for Atmanirbhar Madhya Pradesh'. Minister Sakhlecha said that due to Covid-19, priorities of industries have changed and new opportunities have emerged for micro, small and medium enterprises. He said, "The trend of China's products has decreased all over the world and this is the opportunity that gives us a message of becoming self-reliant to realise the Prime Minister's resolution."
Sakhlecha further said that the objective of this conference is also that with the co-ordination of science and technology, we should come forward with full preparation for new entrepreneurs and new units as guardian.