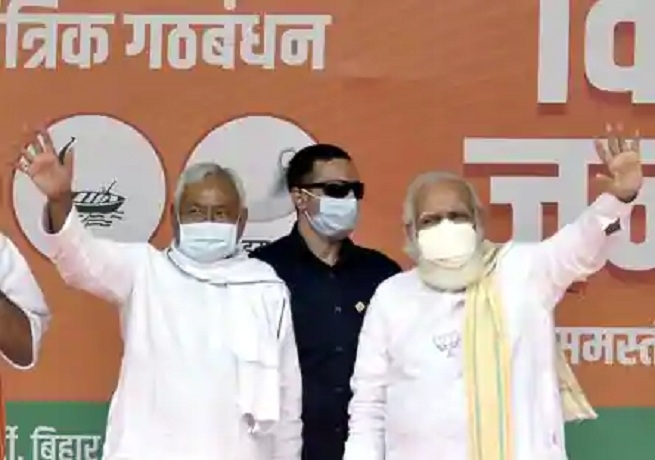 Prime Minister Narendra Modi with Bihar Chief Minister Nitish Kumar during an election rally in Samastipur on Sunday. (ANI)
CHAPRA/SAMASTIPUR :
PRIME MINISTER Narendra Modi on Sunday excoriated the Opposition over the Pulwama attack after Pakistan's admission of complicity in it, saying it has "taken masks off" the faces of those in India who never cared for the "sons of Bihar" who lost their lives in the assault. Addressing an election rally in Chapra, he also sought to appeal to Bihari sensitivities by speaking about 'chhath' puja, saying their "son" will ensure that kitchen fires are kept burning despite the COVID pandemic.
Addressing another rally in Samastipur, Modi said On one side of the political divide was the NDA which was committed to democracy and on the other an alliance devoted to dynastic politics. "Has any relative of (Bihar Chief Minister) Nitish Kumar been sent to Rajya Sabha? Do you find any relative of Modi in Parliament?" he asked the audience in Samastipur which responded with a resounding "No". "A few days ago, our neighbour confessed to its involvement in the Pulwama terror attack," Modi said referring to a statement made on the floor of Pakistan National Assembly by minister Fawad Chaudhry who credited Premier Imran Khan for the "success in Pulwama" where "humne Hindustan ko ghar mein ghus kar maara (we hit India on its own soil)".
"The admission has also taken the masks off our opponents who never actually cared for the lives we lost in the suicide attack which killed many sons of Bihar. They have always been more preoccupied with their political gains," said Modi referring to the questions that were raised about the Balakot air strikes that followed the terrorist strike. He asked the electorate to "beware of such elements" who are seeking their votes. Modi also berated the RJD-Congress combine in Bihar, calling it an alliance of "double-double yuvraj" (two crown princes) whose sole concern was to protect their "respective thrones".
"On the one hand, there is development brought in by the double engine Government of the NDA. On the other there are these double-double yuvraj with the sole agenda of saving their thrones," he said referring to Tejashwi Yadav and Rahul Gandhi who have shared the stage during elections quite a few times. "One of them failed in UP a few years ago and is now lending his support to the 'yuvraj of jungle raj' in Bihar. They are going to fail here again," Modi said.