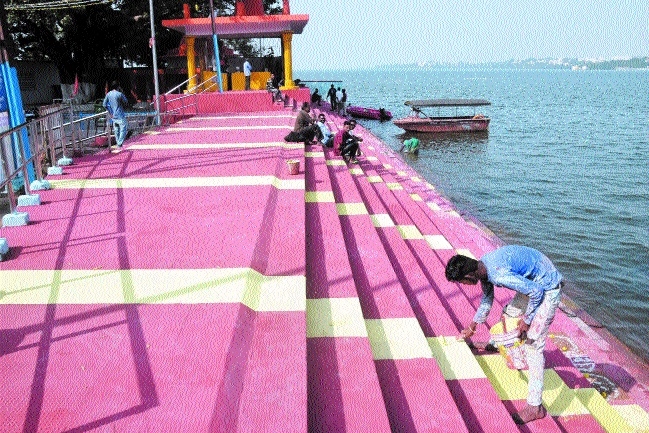 Ghats decked up for Chhath Puja.
Staff Reporter :
Bhopal Municipal Corporation (BMC) has done arrangements in around 20 different Ghats for Chhath Puja celebrations. For this district administration and Bhopal Municipal Corporation has deployed officials in various ghats to facilitate devotees. Different waste bins have been kept for segregate wet dry and other religious waste. The BMC is eyeing on making this event as a zero waste festival and for that massive awareness campaign is also being done to not to use polythene.
Despite ban on usage of plastic carry bags, there is rampant usage in State capital especially during festivals. Bhojapur Ekta Manch volunteers said that single-use plastic, curb use of plastic will be totally banned and they will be providing biodegradable carry bags of other material at affordable rates for consumers.
They have appealed to customers to use cotton bags or bags of biodegradable material. Special light and extra boats have been arranged in various ghats. Fire brigade team and divers will also be deployed in Sheetal Das ki Bagiya and Berkhedi ghats. On Thursday, social distancing squares were drawn and arrangements for thermal scanning in Ghats were completed by BMC officials.