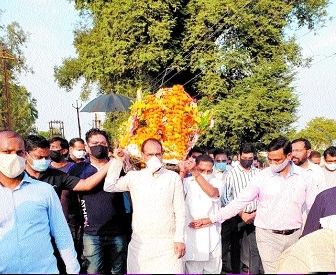 CM Shivraj Singh Chouhan attending funeral procession of his father-in-law and social worker Ghanshyam Das Masani in Gondia on Thursday.
Staff Reporter :
Chief Minister Shivraj Singh Chouhan attended funeral of his father-in-law Ghanshyam Das Masani in Gondia (Maharashtra) on Thursday. It was on Wednesday that Ghanshyam Das Masani died in a private hospital of Bhopal due to illness. Paying tribute, CM said that he never saw arrogance in Ghanshyam Das Masani's behaviour in last 28-29 years.
He remained faithful to all, while living a sincere and pure life. Till his last breath, his face reflected gentility, simplicity and calmness. He said that before he became Chief Minister for the fourth time, Ghanshyam Das Masani came to Bhopal and would often hold discussions with him despite his ill-health. When he himself was admitted to the hospital for the treatment of COVID-19, he came to know about illness of his Ghanshyam Das Masani. He added that Ghanshyam Das Masani, supporter of nationalist ideology, was ideologically active even at the age of 88.
CM Chouhan, his wife Sadhana Singh and other relatives reached Gondia in morning while mortal remains of Ghanshyam Das Masani was taken to Gondia by air ambulance. Last rites were performed at the Mokshadham in Gondia Pindkepar. Locals, social workers and officials in large number attended the funeral. Balaghat Range Inspector General of Police K P Venkateswara Rao besides Collector and SP of Balaghat also attended the funeral.