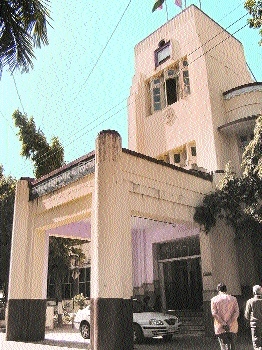 Staff Reporter :
Nagpur Municipal Corporation (NMC) has started preparations for re-opening its 29 secondary schools and junior colleges from November 23 (Monday). The schools will re-open after eight months. School Education and Sport Department of Maharashtra Government recently issued guidelines and allowed schools to re-open for Classes IX to XII. NMC has 25 secondary schools and four junior colleges in city. In these institutions, total 3,754 students are taught various subjects including English, Mathematics, and Science. As per the guidelines of the State Government, Education Department of NMC has asked all the teachers to undergo RTPCR test to ascertain if they are not infected by COVID-19. As many as 60 per cent of the teachers have undergone the test. The tests of the remaining teachers are planned to be completed by November 20 (Friday). The schools have been instructed to procure thermometers, thermal scanning guns, pulse oximeters, disinfectant soaps etc from the available funds.
Students, teaching and non-teaching staff of NMC schools will be subjected to thermal screening daily in the school. No one other than the teaching and non-teaching staff will be allowed to enter the school premises. More than four students will not be allowed to flock together at the schools. Also, the students will have to ensure that they do not exchange among themselves their masks, water bottles, school material etc. Wearing face-masks in schools will be mandatory for students, teaching and non-teaching staff. If any suspected COVID-19 patient is found in school, he/she should be isolated from others. The school concerned has been asked to inform the healthcare authorities immediately. Parents have been asked not to send children to school if they (children) are sick.
Seating arrangement in staff room and classrooms is being changed in accordance with social distancing norms. Parents will have to use their personal vehicles to drop off students to school. Toilets in schools will be disinfected daily and care would be taken that there is crowding. As per the re-opening plan prepared by NMC Education Department, each school will function for four hours on working days. The task of obtaining consent-in-writing of parents has started.
The meetings of school management committees are scheduled to be held for all schools by Friday. NMC's zone-level machinery is disinfecting all 29 secondary schools and junior colleges of the civic body. All school inspectors have been assigned the responsibility of secondary schools in respective zones and the civic administration is taking stock of the action taken by them daily. Under the guidance of Radhakrishnan B, Municipal Commissioner; and Jalaj Sharma, Additional Municipal Commissioner; an online meeting was held with headmasters and assistant teachers of NMC's secondary schools and junior colleges. Priti Mishrikotkar, Education Officer, had held the meeting in which guidelines were issued.