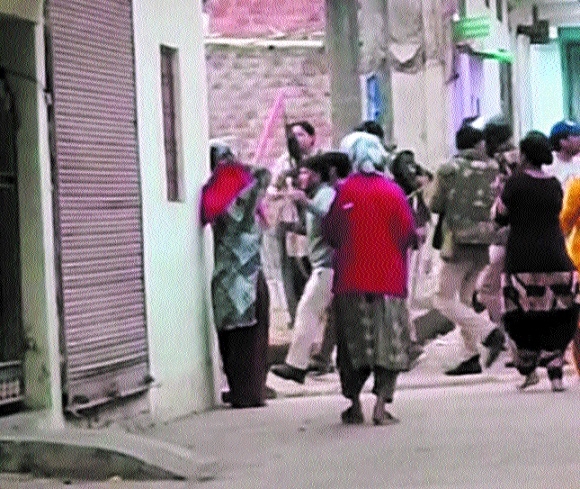 Police team trying to control situation at Irani Dera in State capital.
Staff Reporter :
Main accused Rizwan was arrested amid hullabaloo
Police personnel were attacked when they reached Irani Dera to arrest an accused in State capital on Thursday morning. Women and men of Irani Dera attacked cops with sticks, stones and threw chilly powder into their eyes. Police hadto fire four to five rounds of bullets in the air in self-defence. Amid chaos, main accused was arrested and case was filed against one dozen people in connection with attack incident. As per information, a cheating incident took place in Khurai of Sagar district wherein three to four people have stolen gold of Rs 7 lakh in the name of checking.
On the basis of CCTV footage, bike number was traced to be of Irani Dera. To arrest accused, Khurai Police came to Bhopal. Police personnel of Gandhi Nagar, Chola area and Nishatpura were assisted them. At 7 am, police team raided the house of Rizwan in Irani Dera. At that time, many women and men attacked police with sticks, stones and also threw chilly powder into their eyes.
For a while, police team was taken aback. In defence, police opened four to five rounds in the air. Meanwhile, main accused Rizwan was arrested amid hullabaloo. In connection with attack incident on police team, Nishatpura police registered cases against one dozen people under various sections. Accused are being searched. It may be mentioned that a jeweller reached Khurai to sell some ornaments. He was searched by three persons in the market who posed as CBI officers.
These fraudsters stole the ornaments from the jeweller. He approached Khurai police and then police booked case of fraud against the three accused. When police checked the footage of the market, a bike of Bhopal number plate was seen. Then on identification of locals, police zeroed on three suspects - Rizwan Irani, Shahwar Irani and one other. Police found that the three accused were residents of Irani camp in Bhopal. The injured police personnel have been admitted at Bhopal District Hospital.