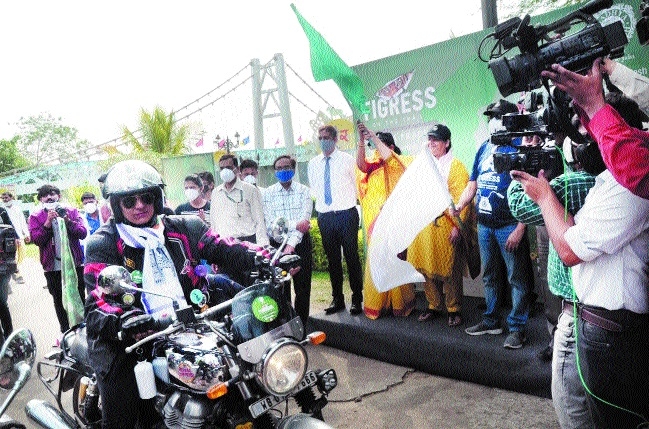 Tourism Minister Usha Thakur flagging off women bikers under 'Tigress on the Trail' expedition in State capital.
Staff Reporter :
Tourism Minister Usha Thakur flagged off 'Tigress on the Trail' expedition organised by the Madhya Pradesh Tourism Department in State capital on Thursday. Under this expedition, women bikers will visit national parks of State to promote adventure and safe tourism. Usha Thakur said that if there is undaunted, fearless and safe tourism anywhere, it is in Madhya Pradesh. Special innovations are being made by Tourism Department to promote tourism in State.
'Tigress on the Trail' is one such unique innovation in which women bikers will enjoy visiting all the national parks. They will also promote tourist places. She added that journey of women bikers will also define good governance of Madhya Pradesh that girls can move safely and fearlessly in Madhya Pradesh.Principal Secretary Shiv Shekhar Shukla said that there is immense tourism potential in State.
'Tigress on the Trail' is an innovation in which the fame of tourist destinations of state will be further enhanced. These women bikers will not only enjoy tourism but will inspire other women to come forward where ever way they pass. Women bikers will spread the message of safe atmosphere in Madhya Pradesh by visiting tourism destinations of state covering 1500 km in six days. MLA Nandani Maravi was also present on this occasion.