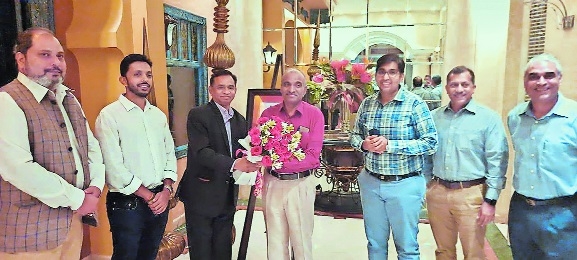 Suresh Rathi, President of Vidarbha Industries Association, presenting a floral bouquet to Dr Bhimaraya Metri, Director of IIM, Nagpur. VIA office-bears and others are also seen.
Business Bureau :
The Indian Institute of Management (IIM) Nagpur and Vidarbha Industries Association (VIA) have recently joined hands to work on various projects. Dr Bhimaraya Metri, Director of IIM, Nagpur recently met a team of VIA office-bearers at Hotel Tuli Imperial, Nagpur to explore possible opportunities to collaborate with Vidarbha Industries Association.
During discussions, Suresh Rathi, President of Vidarbha Industries Association with senior officer bearers and Dr Metri with senior faculties mutually interacted on various potential projects, which will be jointly conducted for the benefit of both the organisations. They also discussed about their vision for the upcoming years. It was mutually decided for launching of Executive Programme for working professionals, family managed businesses, study programme for second generation entrepreneurs, to support the co-operative organisations / Farmer Producer Organisations (FPOs) to strengthen farmer's community to develop their operations.
In addition to this, Vidarbha Industries Association and IIM also agreed to organise sessions and adopt a learning culture of working and best practices for industries of potent sectors and to develop a conducive atmosphere to retain the best talent in the region. VIA Vice Presidents - Dr Suhas Buddhe and Aditya Saraf; Secretary - Gaurav Sarda, and former Vice President Prashant Mohota; Lt Col M V Alur (Retd), CAO, Prof. Atul Pathak, Chairperson, Executive Education Programs and Dr Shivaji S Dhawad Incharge - Field Study Officer were also present during the meet.