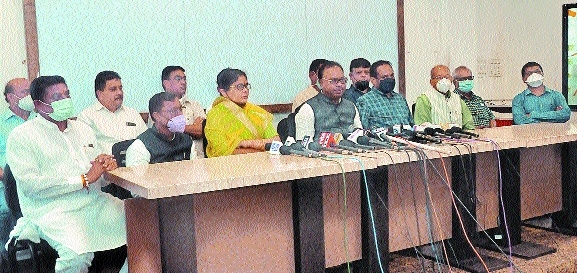 Demanding the waiver of energy bills upto 100 units Bharatiya Janata Party (BJP) State General Secretary Chandrashekhar Bawankule said, "BJP will register its protest for non-fulfilment of the demand by burning the copies of electricity bills throughout Maharashtra on Monday, November 23 at 11 am." Bawankule was addressing mediapersons at Press Club on Friday.
Bawankule pointed out, "Maharashtra Government had announced that it would waive off the bills of people of economically weaker section upto 100 units of 5 years. But it did not fulfill the promise. Government should waive off the bills during lockdown period four months--from March to June-- upto 100 and from 100 to 300 units."
Coming heavily on Government for providing excuse of pending dues that is compelling it not to waive off the electricity bills, Bawankule said, "This Government is giving lame excuse that our Government had raised the dues making it impossible for the Maha Vikas Aaghadi (MVA) to waive off the bills. It has become habitual of pointing fingers either at earlier Fadnavis Government or Central Government. In fact, when Fadnavis Government came to power in 2014, the pending dues were to the tune of Rs 21,000 crore but we waived off bills on several occasions considering people's need. Now dues have reached Rs 47,000 crore. The dues during lockdown period are added by Rs 7,000 crore. This Government should show willingness to help people and for that it should provide special aid to power company."
Calling MVA Government as anti-farmer, Bawankule commented, "Fadnavis Government was always in favour of farmers' welfare. We did not even try to recover the pending dues of 45 lakh farmers for 5 years. We gave agriculture pumps to 6 lakh farmers in the State, provided power free, cut load-shedding. Unfortunately, MVA Government calls it as our mistake. This Government has engaged in unnecessary fight and somehow trying not to waive off the bills. It is trying to connect the issue with the pending dues unnecessarily. If Government provides Rs 5,000 crore it can resolve the issue."
The Congress-Nationalist Congress Party Government had taken a decision of disconnecting power of 25 farmers getting electric supply from one transformer, if one farmer fails to pay the dues. When Fadnavis Government took over, it cancelled that decision, informed Bawankule. Those present during the press conference were MLC Pravin Datke, President of BJP Nagpur City unit; Padma Shri Dr Vikas Mahatme, Rajya Sabha Member; Tekchand Sawarkar, MLA; Sudhakar Kohale, ex-MLA; Adv Dharmpal Meshram, Chairman of Law Committee of Nagpur Municipal Corporation; Dr Ravindra Bhoyar, Corporator; Archana Dehankar, Ashok Mendhe, Chandan Goswami and others.
'MVA is capable of taking care of Dr Raut'
"Maha Vikas Aaghadi is capable of taking care of its ministers. Chandrashekhar Bawankule doesn't need to show any sympathy for Energy Minister Dr Nitin Raut," criticised Pravin Kunte-Patil, State Spokesperson of Nationalist Congress Party (NCP).
He was responding in the wake of statement made by Bawankule that Chief Minister and Deputy Chief Minister are not supporting Dr Raut on waiving of power bills upto 100 units. Kunte alleged, "The statements by Bawankule advising Dr Raut that he should not stay in the ministry as it would be out of dignity is not good. This is an attempt of creating differences in MVA. But Dr Raut too knows the truth and I am confident he would not fall prey to such tactics."