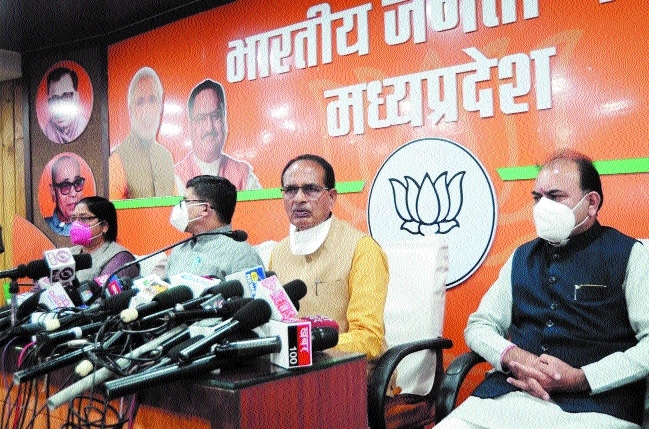 Chief Minister Shivraj Singh Chouhan has accused Gupkar alliance of trying to vitiate atmosphere in Kashmir. Chouhan asserted that all leaders of the alliance, formed by eight parties of Kashmir, used to give anti-national statement. He demanded that Congress leadership should clear its stand on Article 370.
He was addressing a press conference at BJP office in State capital on Friday. He asserted that it was on October 11 that Chairman of National Conference Farooq Abdullah spoke about restoration of Article 370 with the help of China.
On October 23, Mehbooba Mufti said that she would neither allow anyone to raise tri-colour nor would hold tri-colour untill Kashmir flag is not returned, he told.
He also accused Rahul Gandhi of trying to match rhetoric of above leaders. Gupkar alliance and Congress once again want to spread venom into Kashmir, wants to push it towards darkness," he alleged. He asserted that if Gandhi family of Congress is being seen united with Abdullah family and Mufti family then reason is this that by scrapping Article 370 and 35A, Modi Government had curtailed its loot. He alleged that under the garb of Roshani Act, these elite families have usurped land of more than Rs 25,000 crore and now CBI is probing this matter.
"These are same leaders whose children study abroad and they give stones into the hands of Kashmiri children," he claimed. He added that when these leaders started to face CBI probe heat, they formed Gupkar alliance to save their skin and Congress also joined them. "Earlier, also Congress was with leaders of Gupkar alliance and is with them even today also," he alleged.