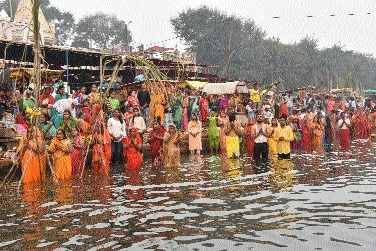 The fast kept by women without drinking water would end on Saturday with holding of 'Kharna' rituals with offering of water to the Sun God under Chhath festival. However, the impact of COVID-19 epidemic is also being noticed on the Chhath festival. The in most of the areas, preparation to offer water to Sun God during sun set and sun rise is being done on artificial Ghats by maintaining social distance.
The fast without water of 36 hours was started by women devotees from Thursday after ritual called Kharna. On Saturday the fast would be ended with offering of water to Sun God during sun set by standing in the waist deep water of any water body with fruits decorated on bamboo baskets.
Maintaining the social distance, the mask bearing devotees would participated in rituals. However, only those keeping fast can participate in festival.
In view of the crowd, the police administration has made tight security arrangements, the office bearers of Utter Pradesh Bihar Association have been deployed as in charge for 18 chosen spots to conduct the rituals. The police has installed barricades at different spots leading to Gwarighat to control the crowd and entry of vehicles. Potable water would be provided and changing rooms would also be made at the spot.