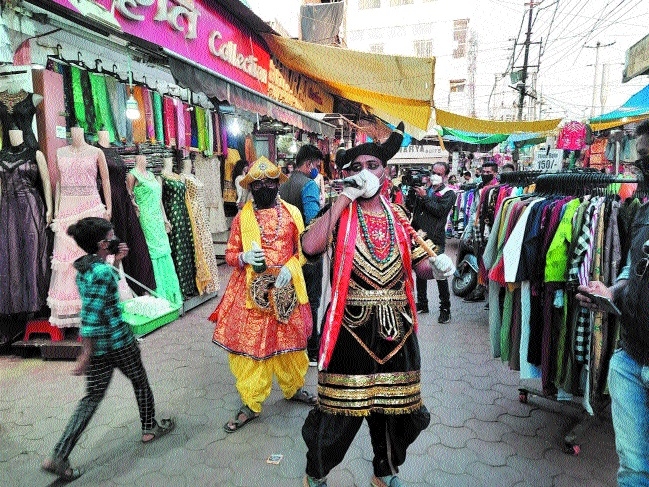 Yamraj and Chitragupta walking on streets of Bhopal to raise awareness about COVID-19 among the citizens.
Staff Reporter :
Several campaigns, having common motive of spreading awareness on prevention of coronavirus, are being carried out in State capital. Notably, Collector Avinash Lavania has ordered all the sub-divisional magistrates (SDMs) to carry out drive against those not wearing masks and violating social distancing norms. SDM Kolar Rajesh Gupta said that his team visited the markets in Bima Kunj and slapped fine of Rs 100 each upon those found without masks. He added that people were told that following the social distancing norms is in their benefit.
'Yamraj', 'Chitragupta'
warn people In a unique way of spreading awareness among the citizens about coronavirus, two men dressed up like Yamraj and Chitragupta walked the streets reminding people to remain indoors. The initiative was a joint effort of 'Awaj'- an NGO and the district administration. Yamraj shouted slogans about the dangers of coronavirus and how it can be defeated just by wearing a mask and following the social distancing norms. SDM city circle Jameel Khan told 'The Hitavada' that his teams were deployed in the New Market area and fined several people for not wearing a mask. A group of singers sang different songs in local languages to spread the word of advice among the citizens.