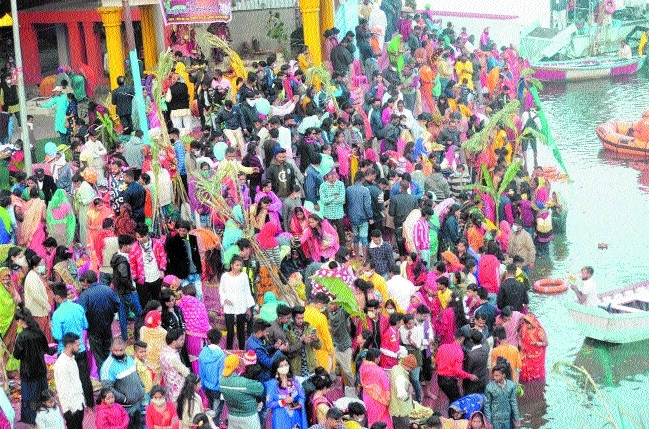 Devotees at Sheetal Das ki Bghaiya for Chhath Puja.
Staff Reporter :
On the occasion of Chhath festival, the prestigious two-day ceremony 'Chhath Prasang' of Bhojpuri Sahitya Academy under Madhya Pradesh Culture Department was held on Saturday morning at Prempura Ghat (near promenade). Well-known singers Preeti Mishra and Pankaj Kumar sung many devotional songs in the programme. Both artists performed well-known traditional Chhath songs.
Chhath is a unique festival which is based on worship of Surya and it is mainly celebrated in Bihar, Jharkhand, Eastern Uttar Pradesh as well as Madhya Pradesh. On this occasion, Preeti and Pankaj performed traditional songs of Chhath such as 'Uga Ho Suraj Dev Bhile Arg Ke Ber'. Both the vocalists sang about the glory of Surya Dev and Chhathi Mai through solo and duet folk songs.
Singing and ballet dancing were performed on this stage. A large number of devotees and Bhojpuri music lovers were present on this occasion. The devotees were seen in good numbers in Sheetal Das Ki Bagia, Vardhman Sunset Park, Sehore Naka, Maa Saraswati Temple Bhel Badkheda, Ghat near 5 number stop. The Chhath festival of Bihar community is biggest festival of cleanliness and purity. Chhath Vrati pooja arrangements are made for the convenience of devotees by Bhopal Municipal Corporation.