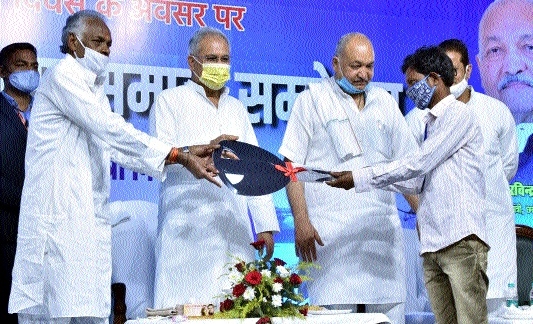 CM Baghel distributing motorcycle-cum-ice box to fishermen.
Staff Reporter :
RAIPUR,
Chief Minister Bhupesh Baghel announced that State Government will provide farming status to fisheries in Chhattisgarh. While addressing the conference of Chhattisgarh Fishermen Community organised to mark World Fisheries Day, he said that alike agriculture, initiative of providing interest-free loans from the co-operative bank for fisheries and rebate in electricity rates to the Nishad, Kenwat and Dhimar Community people, engaged in fisheries will be taken.
The Chief Minister said that State Government's schemes would bring positive changes in the lives of the people. The fishermen community is being given grant-in-aid in various schemes, but this has not changed their economic status. For this, it is necessary that the Nishad community should follow the scientific method of fish farming and manage the sale of fish produced to improve the economic condition of the fishermen. The State Government will provide all possible help to the people of the community, he assured. He said that the community should pay attention towards providing good education to children. When children are educated and strong, they will be able to get their rights themselves.
On this occasion, CM distributed motorcycle-cum-ice boxes to 15 fishermen and auto-cum-ice boxes to two fishermen and gave away a cheque of first installment grant amounting to Rs 40,000 each, under the Fishermen Housing Scheme to 10 fishermen beneficiaries. Presiding over the programme, Agriculture Minister Ravindra Choubey said that every year motorcycles will be distributed among 1,000 youths of fishermen community along with ice boxes on grant. He said that the fishermen community should be included in the fishermen committee to be set up for fisheries.
He said that the Fishermen Federation should decide whether fisheries in Chhattisgarh should be done through Fishermen's Co-operative Society of the Nishad and Kenwat Community or should be like the policy of collecting tendu leaves in State, where people working in the committee should get the wages and profit percentage from fish trade fixed by Government.