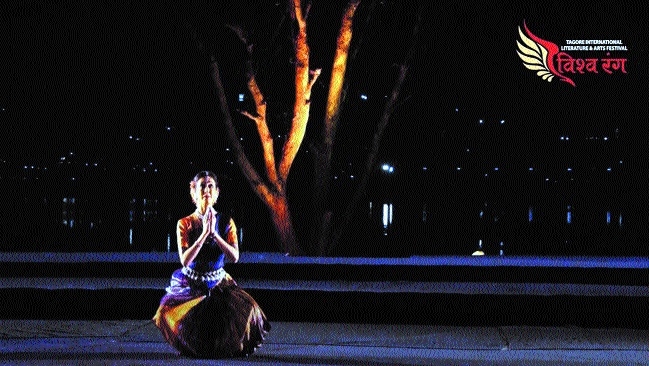 Odissi Dance performance mesmerised audience on the second day at 'Vishwarang-2020'.
Staff Reporter :
The second day of Tagore International Literature and Art Festival'Vishwarang-2020' started with Bindu Juneja's Odissi Dance. Bindu Juneja mesmerised everyone with her performance on 'Narmadastkam Nritya' that glorifies the holy river Narmada.
The song elaborated the beauty and glory of river Narmada. Vishwarang's fourth session of second day was all about Tagore and other poets' translated poetries. Many known writers translated and recited poetries of Tagore and other famous poets. The session was headed by Raghuveer Chaudhary and was hosted by Pranjal Dhar. The first poet to recite the poetries of Tagore was Kumar Mukul. Following, translation of poetries of Baei Dao, Simin Behbaani, Lace Mare, Derek Wallcaat, Vishwasa Shimborka etc.
Year 2020 will be known for coronavirus and it's after effects. COVID-19 has brought a lot of changes in lives and one has to adapt accordingly. To discuss these things in detail, Vishwarang 2020 had this session included 'World after COVID: Education in Future' this was the topic for discussion on the second day. S S Mantha (Former Director AICTE), NavinMittal (Commissioner College and Technical Studies, Telangana), Antarpreet Singh (Director, Digital Learning, ISB), were part of this programme.