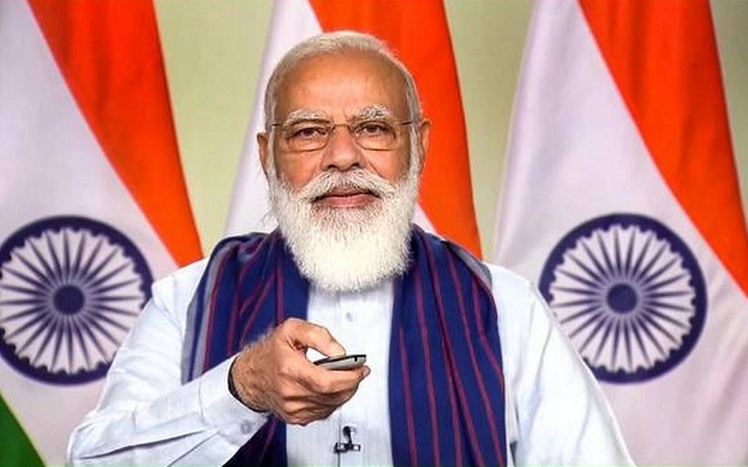 LUCKNOW :
PRIME Minister Narendra Modi on Sunday bemoaned the lack of development in UP's Vindhyachal for decades after Independence and said despite resources, the region faced scarcity. The scarcity forced many people to migrate from the region, he said after laying the foundation stone of rural drinking water supply projects in Mirzapur and Sonbhadra districts of the Vindhyachal region via video conferencing. Modi also interacted with village water and sanitation committee members during the event.
"For decades after Independence, if any area had fallen prey to neglect, then it was this area. Be it Vindhyachal or Bundelkhand, this entire area despite having resources became an area of scarcity. Despite having so many rivers, this area was identified as the most thirsty and drought-affected area. This was the reason, which forced many people to migrate from here," he said. Referring to the temple of Vindhyavasini in the region, Modi said the Vindhya hills are a big centre of belief (vishvaas) and faith (aasthaa). "With the blessings of Maa Vindhyavasini, this project is beginning.
The Vindhyachal hills have been a centre of belief (vishvaas), piousness (pavitrata) and faith (aasthaa) from ancient times. Poet Rahimdas had said 'jaa par vipadaa parat hai, so aavat yehi desh' (a person facing difficulty comes to this place). The reason for this belief was the abundant resources and possibilities present here," he said. Modi said the foundation laying of the projects is a moment of happiness for mothers, sisters and daughters. "This project is an example of Uttar Pradesh taking forward steps despite COVID-19," the PM said. The PM said in the past a year and a half from the start of the Jal Jeevan Mission, over 2.60 crore families have been provided with piped drinking water in the country.