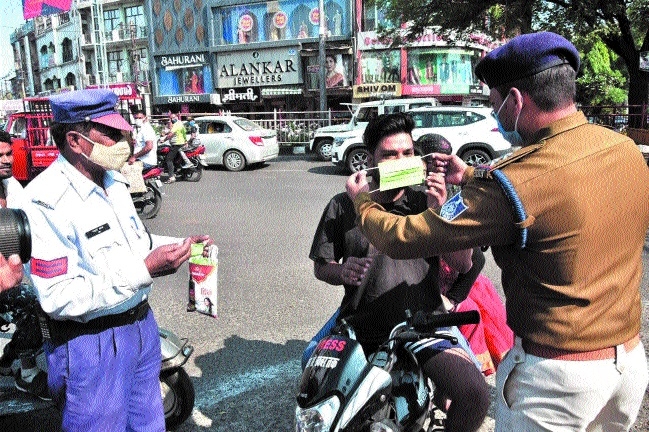 Officials inspecting commuters during spot fine drive.
Staff Reporter :
BMC recovered Rs 41,000 from 283 violators
The coronavirus has started to spread again in the city. In view of this, the Bhopal Municipal Corporation (BMC) has also begun to take strict action against the careless people for violating COVID-19 SOP norms. On Sunday, the Bhopal Municipal Corporation took action to levy fine on those who were not wearing mask in public places and do not follow the Covid-19 guidelines.
During this period, the Bhopal Municipal Corporation recovered Rs 41,000 in 283 cases. Teams of the Municipal Health Department took action in their respective areas. During this period, the district administration and police also assisted in action against the citizens coming to public places without wearing masks. Citizens who were found in public places spitting or without a mask were advised not to repeat such things and in some areas they were also give masks.
BMC Commissioner K VS Chaudhary gave instructions to ensure stringent measures for COVID-19 guidelines compliance. The spot fine drive was carried out in zone 8, 9, 10, and 17. An anti-spitting awareness was also held by BMC officials in these areas.