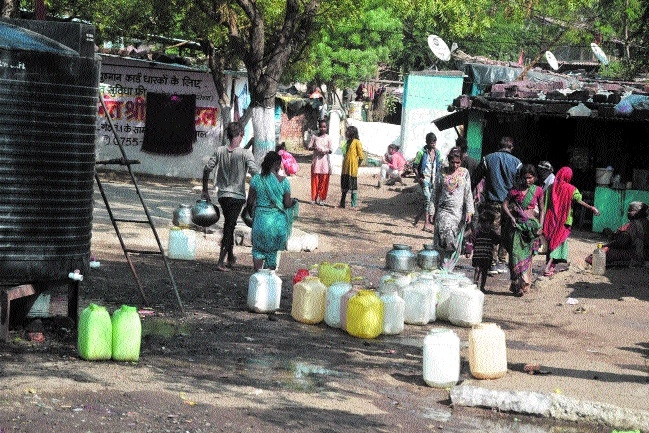 Locals near Ayodhya by pass road facing problem due to
inadequate water supply.
Staff Reporter :
Water leakage near Hoshangabad road has been rectified by Bhopal Municipal Corporation Water Works Department. As per officials, leakage was rectified after strenuous hours of work at wee hours by 3 am. Water supply was normalised to many nearby areas by noon. In Ward number 52, 53, 54 water supply remained affected. In many areas under zone 13, including Adarsh Nagar Society, Shivshakti Nagar, Sanskar Housing, Rajat Vihar, Shalimar Sevan Garden, Krishna Complex, Ganesh Nagar, D Mart, Priyadarshini Pyramid, Nirupam State etc.
More than 24 colonies water supply came in low pressure in the morning and in some areas there was no supply at all. BMC Water Works City Engineer A K Pawar said that supply was resumed to some areas but low pressure supply was experienced and work is being continued to resolve this issue. Meanwhile people also faced problem to get water tankers. Ranjini, a local resident of Adarsh Nagar Society, said that since last three days there is no water supply and no adequate water tankers provision by BMC.
Water supply remained affected in Shivaji Nagar, Railway Colony, Habibganj, Janta Quarter, Old Bus Stand, Sanjay Complex, Budhwara, Shahpura, Kotra Nademm road, Nehru Nagar, Vaishali Nagar etc. Water supply was affected due to burst in Kolar Pipeline main gravity line in Inayatpur last month.