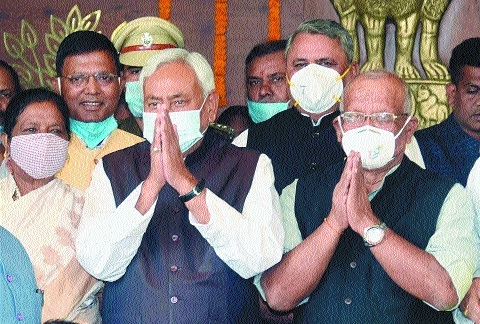 Bihar Chief Minister Nitish Kumar, Deputy CMs Tarkishore Prasad and Renu Devi arrive to attend the first session of the new Bihar Legislative Assembly, in Patna on Monday. (ANI)
PATNA :
THE newly-elected MLAs of the Bihar Assembly took oath on Monday as the first day of the five-day Bihar Assembly session began amid strict COVID-19 protocols.The session will end on November 27. Pro-tem Speaker of the State Assembly, Jitan Ram Manjhi, administered the oath to the newly-elected MLAs. Manjhi said the swearing-in of the newly-elected MLAs would continue till November 24. The two Deputy Chief Ministers Tarkishore Prasad and Renu Devi were the first to take the oath.
It is for the first time that two Deputy Chief Ministers have been appointed in the State. Before the proceedings of the 17th Bihar Assembly began, the Opposition Congress and the Left raised slogans on various issues like demanding justice for the young girl who was molested and killed in Vaishali.
The Opposition also attacked the Nitish Kumar-led NDA Government on farmers' issues. The first day of the Assembly witnessed a controversy when AIMIM MLA Akhtarul Imam raised objection over the word 'Hindustan' while he was being administered the oath.