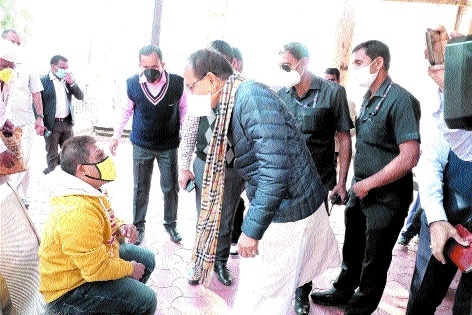 Staff Reporter :
Viewed several construction works in capital city of Bhopal
Instructions issued to speed up works
Chief Minister Shivraj Singh Chouhan on Monday made a surprise inspection at the Bhopal Collectorate and took stock of implementation of various public welfare schemes. Beginning by his visit to various areas of Bhopal, CM Chouhan reviewed the construction works and the facilities being provided to the people. After reviewing these works, Chouhan instructed the officials concerned to ensure the completion of these works within the stipulated time.
Chouhan said that punitive action will be taken against those who deprive the general public of the facilities available to them. Chief Minister Chouhan inspected the works of Lok Seva Kendra at Collectorate Bhopal, new sewage treatment plants at Bhopal and Pradhan Mantri Awas Yojana in Kokta region. Chief Minister Chouhan was accompanied by Collector Avinash Lavania, Secretary to the Chief Minister M Selvendran, Director Public Relations Ashutosh Pratap Singh and concerned officials during the inspection.
Inspection of Lok Seva Kendra: CM Chouhan also reached Lok Seva Kendra at the Collectorate and met people. He held talks with applicants, who informed him that their work is being done in a day, but they also have to pay a fee of Rs five per document for a copy of the document. Chouhan said that a new policy will be formulated to reduce this fee in the Kendras. The CM instructed Collector Bhopal Avinash Lavania to change the system of charging fee in the Kendra and provide relief to the public.