'Corona has to be controlled with caution, but economic activities should continue'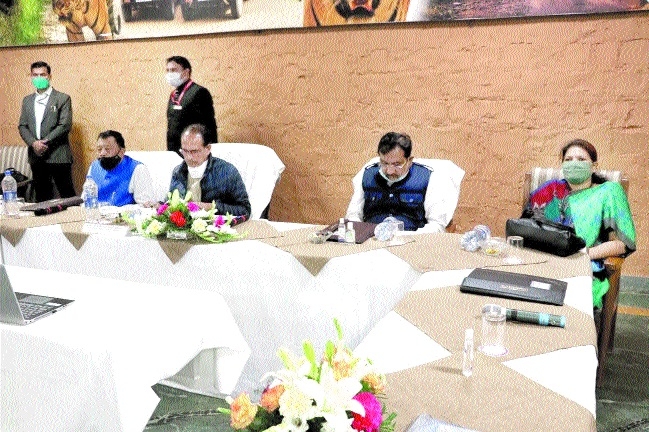 Staff Reporter :
Chief Minister Shivraj Singh Chouhan has said "We have to take complete precautions and eliminate corona completely by controlling it, but special care must be taken to ensure that economic activities are not adversely affected. There should be no hindrance in marriage events, transportation of goods, etc, or time limit,". He said that number of people attending the events may be limited. In high risk areas, small containment zones should also be created. In this regard, the Crisis Management Group of the district can take decisions according to conditions at local level.He instructed that strict adherence to use of masks is mandatory. All shopkeepers and customers must wear masks.
Fine should also be imposed for not wearing masks. Care must also be taken to maintain necessary distance from each other. Public awareness campaign should be launched in this regard. He was reviewing corona situation and arrangements in the State through video conferencing from Bandhavgarh in Umaria district on Tuesday. Forest Minister Kunwar Vijay Shah, Tribal Welfare Minister Meena Singh, Food Civil Supplies and Consumer Protection Minister Bisahulal Singh and all concerned officials were present in the meeting. Special precautions should be taken in Indore and Bhopal: CM: During district-wise review of corona situation, Chief Minister instructed to take special precautions in Indore and Bhopal. Indore has the highest number of 565 new corona patients, while 324 new patients have been found in Bhopal.
The positivity rate in Bhopal in the last seven days is 12 percent, while that of Indore is 10 per cent. He instructed to take special precautions in Indore and Bhopal. He said that small containment zones should be created as per requirement. Spread of corona infection has to be stopped and positivity rate should not be allowed to rise above five percent in any case. Most patients are coming up in Kolar Road area in Bhopal. He instructed to create containment zones in high risk areas.
Districts with high positivity should take special care: In a district-wise review, Chief Minister found that along with Indore and Bhopal, positivity rates of Gwalior, Ratlam, Vidisha, Shivpuri, Ashoknagar, Datia and Anuppur districts have been high in last seven days. He instructed all districts to take special precautions. Sampling should be done in sufficient number: Chief Minister directed that sufficient number of samples should be taken in all the districts to enable early diagnosis and treatment of Corona. There should be adequate number of beds, oxygen beds, ICU. etc. In all Corona hospitals. Number of beds should be increased where necessary.