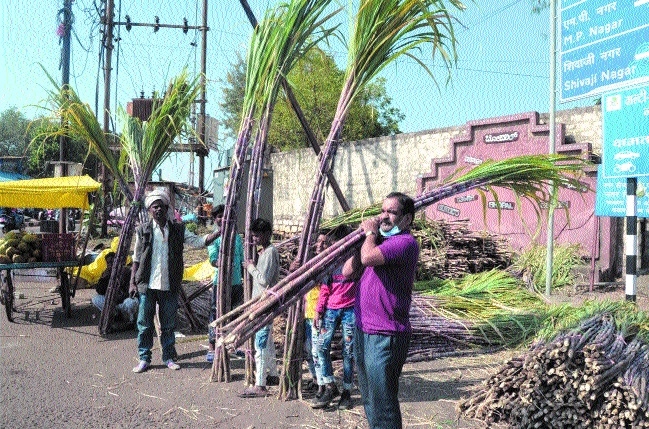 People purchasing sugarcanes in market ahead of 'Ekadashi Gyaras' in the State capital.
Staff Reporter :
The State capital will be witnessing celebration of "Dev Uthani Ekadashi Gyaras" 2020 amid covid-19 pandemic on Wednesday. The festival "Ekadashi Gyaras" which is also known as "Prabodhini Ekadashi" comes after Diwali with a religious belief of waking up of the lord Ekadashi. People celebrate it with Hindu rituals followed with observance of fast, recital of vrat katha and celebrating it as choti diwali.
It is believed that on this auspicious day of Devuthani Gyaras, Lord Vishnu wakes up after four months of sleep in Kshirsagar and starts the wedding season and other holy occasions which were at halt for last four months. On this pious occasion, people will be worshipping Lord Vishnu and ceebrating "Tulsi Vivah" with great devotion and enthusiasm on the day.
In an Okhli, fruit, sweets, plum, water chestnut along with sugarcane will be placed where Tusi plant will be placed and worshipped by the people. Thereafter, Tulsi Vivah is celebrated and it is the marriage of Tulsi plant with Lord Shaligram. Viewing spike in covid-19 cases, people will be celebrating it adhering to the precautionary measures against the pandemic. On Tuesday, the markets were seen with display of sugarcane bundles for sale. People were seen purchasing sugarcanes for "Ekadashi Gyaras" on the day.