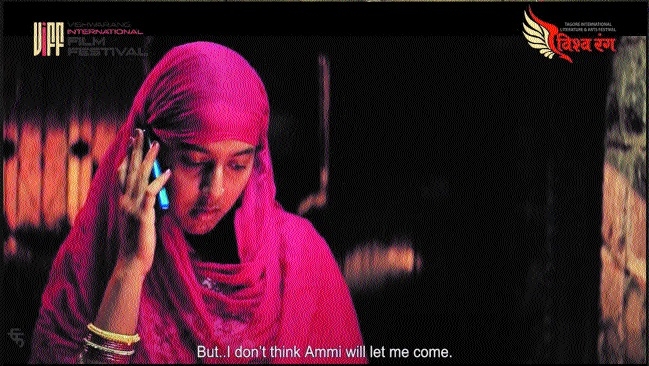 A scene from film 'Rukhsana' showcased at Vishwarang.
Staff Reporter :
The second day of Vishwarang Film Festival began with Amit Malik's violin playing. The first session of the day was hosted by Vinay Upadhyay and Jyoti Dubey in which eminent artist Amit Malik from film and music field who mesmerised everyone with his violin presentation. Following to which, Uma Vasudev's directed film 'Padma Sachdeva' was presented which is based on Indian musician M K M Sheryaar's life.
A science-based film 'Nagaland is changing' was also presented on the second day of Vishwarang Film Festival. This film is directed by Gurmeet Sapaal, which showcases, relation between forests and people of Nagaland. Further, some short films were also presented in the festival. First short film, 'Jariwaala Aasman' directed by Aasif Moyal also was displayed. Later, 'Anti Hero' film was presented.
This film is about an ant and antilian larva which is directed by Siddhu Das. The last short film to be showcased was 'Rukhsana' which is directed by Mohammed Jorjis. This film is about a girl Rukhsana who wants to study and live her life but faces many problems. The programme ended with the presentation of specially invited film 'Painting life'. This film was made in 2018 and was directed by Dr Biju.