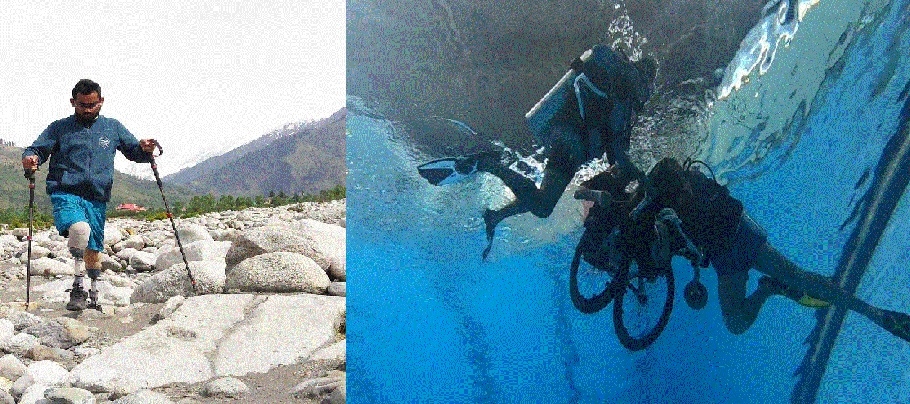 Special Correspondent :
Raipur,
Ex-Para Forces will train persons with disability to Conquer Land Air and Water and double leg amputee mountaineer and skydiver Chitrasen Sahu from Chhattisgarh has been appointed as national ambassador for the mission CLAW (Conquer Land Air Water) Operation Blue Freedom - Maldives Recce 2020. Sahu will be one of the three Ambassadors from India.
Sahu has also been appointed as one of the members of Organising Committee to implement and curate the mission. Talking to The Hitavada, Blade runner Chitrasen, who has already scaled Kilimanjaro in South Africa, said that post training the teams will proceed to create the Triple Elemental World Records as under - Land - Largest team of PwDS to climb the world's highest 'Battlefield' - Siachen Glacier, India; Air - Largest team of PwDs to Skydive (Accelerated Free Fall) - Dubai, UAE; and Water - Largest team of PwDS to Scuba Dive in the open sea - Maldives. "I have done skydiving, mountaineering, and already I am working for Mission Inclusion . There are the factors that influenced the organisers to appoint me as national ambassador and members of organising committee.
Apart from persons with disability from forces, we will try to include normal people in future. There should not be limitation as this mission teaches us," said Chitrasen when asked on what prompted the organisers to pick him for the Mission. 'Operation Blue Freedom' is a movement to express the powerful spirit and ability of people with disabilities, to evolve the perception of society towards their true potential and to secure their right to dignity through meaningful employment. 'Operation Blue Freedom' was launched by Team CLAW (Conquer Land Air Water), a team of former Special Forces Operatives of the Indian Army and the Indian Navy, in June 2019.
The Operation brings together People with Disabilities and Special Forces in action - To drive inner transformation, induce global action for inclusion and advocate the concept of freedom for one and all. It aims to mainstream the mindset that Special Forces and People with disabilities share i.e to - 'Survive, Stabilize and Thrive' in hostile environments. Team CLAW (Conquer Land Air Water) is a team of Special Forces veterans from the Indian Armed Forces. Each team member had been a crack soldier in the Army/ Navy Special Forces and was highly trained with multiple specialisations in Mountaineering, Skydiving, SCUBA diving, Unarmed combat, Multi – terrain survival tech, Emergency Med Response, etc. Each team member has undergone some of the toughest selection, training and operational environments anywhere on the globe.