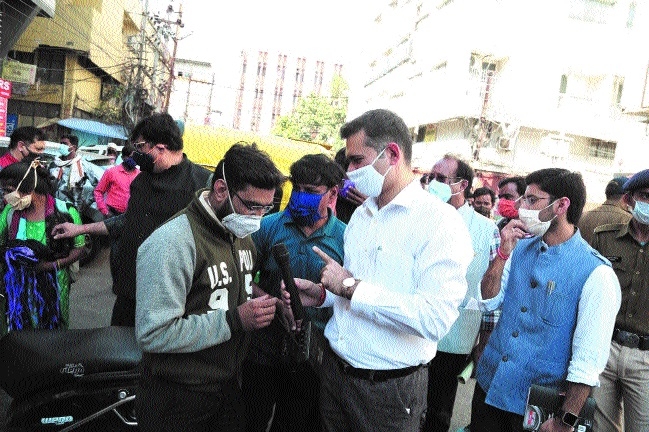 Collector Avinash Lavania taking part in a COVID-19 awareness programme held at MP Nagar area in Bhopal on Wednesday.
Staff Reporter :
"Collector Avinash Lavania paid a surprise visit to MP Nagar area and appealed to the citizens to wear face mask and distributed masks among those who were not wearing one. A total challan of Rs 7,500 was recovered from MP Nagar area from those not wearing a face mask," said Tehsildar (MP Nagar) Manish Sharma. The Tehsildar told 'The Hitavada' that the Collector encouraged citizens to compulsorily wear mask while stepping out of their homes. Notably, a drive was launched by Bhopal Collector Avinash Lavania against those violating COVID-19 norms. Lavania told citizens that by wearing a mask one can reduce the risk of contracting the virus up to 70 per cent.
'Act against those without masks'
"Seal concerned establishment for three days if the owner or employees of the same are found without masks," said Collector Avinash Lavania on Wednesday. The Collector gave the above orders while addressing a time limit meeting at Bhopal Collectorate. Lavania has directed all the SDMs and police station in-charges to make continuous visits in their respective areas and encourage citizens to wear a mask and comply with the social distancing norms. Take matters related to Revenue Department and CM Helpline seriously and dispose them within the time limit, the collector added. He asked Revenue officials to boost pace of revenue collection and make continuous efforts to grab the first position in the State.