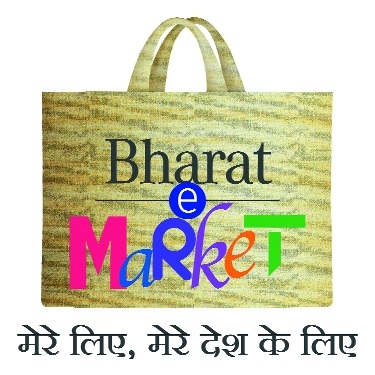 Business Bureau :
Spelling out its firm resolve to bring e-commerce business of India into the fold of the trading community, the Confederation of All India Traders (CAIT) on Friday launched the logo of its upcoming e-commerce portal "BharatEMarket" with an object of clubbing physical trade with the growing e-commerce market of India. Inserting the tag line "Mere liye, Mere Desh ke liye", in the logo, the CAIT made its intentions clear to take forward the vision for "vocal for local" and Atmnirbhar Bharat of Prime Minister Narendra Modi in e-commerce eco system of the country.
The CAIT made a strong declaration that no goods of Chinese origin will be sold on Bharatemarket. The portal will be launched in December. The name itself is the symbol of true Indian sentiments whereas the background jhola or the bag shows India's traditional way of shopping and its pure Khadi spirit to link the portal with common man of the country.
The font and fast color scheme used in the logo constitute modern India and will attract the youth consumers of the country towards the portal. The logo has been prepared by one of the top branding and communication of the country R K Swamy BBDO who are the branding and communication partner of Bharatemarket. Internationally acclaimed Vastu expert Dr Khushdeep Bansal along with Pradeep Singhal, Chairman, All India Transport Welfare Association, Dhairysheel Patil, President, All India FMCG Distributors Association, Pankaj Mohindroo, Chief of India Cellular & Electronics Association, Arvinder Khurana, President, All India Mobile Retailers Association and Naresh Sirohi, President, Bhartiya Kisan Sanghthan jointly launched the Logo. Senior officials of MasterCard, Amway, Tally, HDFC Bank, Shriram Group, and payment Gateway Company Razor Pay also attended the launching ceremony. Prominent trade leaders of all states also joined the launch in large numbers through the video conference.
Taking a part in launch event Som Prakash, Minister of State for Commerce complimented CAIT for its decision to launch an e-commerce Portal Bharatemarket carrying vision of PM Modi for vocal for local and Atmnirbhar Bharat. CAIT National President B C Bhartia and Secretary General Praveen Khandelwal said the e-commerce market in India is expected to reach to 200 billion dollar by 2026 which is 45 billion dollar at present. "Looking at the future of e-commerce and for ensuring greater participation of traders, the CAIT has launched its portal Bharatemarket," they added.