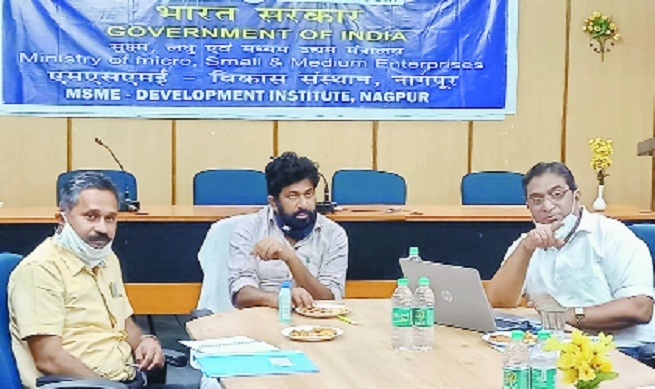 Business Bureau :
Recently a meeting was held between Maharashtra Minister of State for Water Resources, School Education, Women & Child Development, Labour Bacchu Kadu and P M Parlewar, Director, MSME-DI, Nagpur at MSME-DI Conference Hall in the city. The purpose of the meeting was to explore the possibilities of setting up of cluster in Achalpur in Amravati district for the purpose of generating employment and growth of industries in the district.
At the outset, Parlewar welcomed the Minister and explained him in brief about the Cluster Development Scheme of MSME and also briefed about other schemes of Ministry of MSME. He also gave power point presentation regarding the various clusters formed in Nagpur district like Readymade garment cluster, Rice mill Cluster, Dal Mill Cluster etc.
Bacchu Kadu said that there are huge opportunities for setting up of CFC in Achalpur taluka. He suggested Director, MSME-DI to visit Achalpur and create awareness amongst the manufactures about the various schemes of MSME and particularly about Cluster Development scheme.
He also expressed desire to set up small clusters for the artisans of Achalpur, Amravati district. For this, he cited the example that there are around 200-300 cobblers in Achalpur taluka. So if a small cluster is set up and training is provided through CFC, they will be able to manufacture other items from leather. P M Parlewar said that for setting up of Industrial Cluster in Amravati district will be a better option as it is a big city.