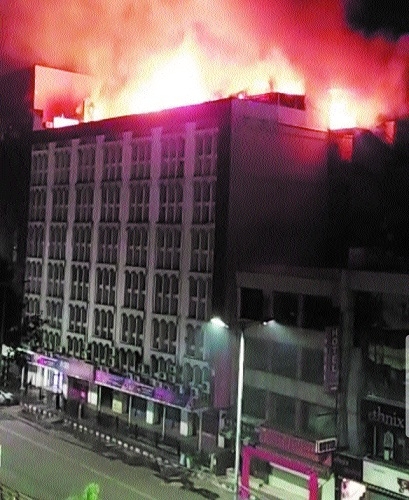 Staff Reporter :
A massive fire broke out at Panchanan building in New Market early Tuesday morning. The fire was so severe that about 25 fire fighters had to douse the fire. The fire was spotted by locals at around 3 am. There were no reports of any casualties in this incident. The fire was on the sixth floor of the building. BMC Fire Officer Rameshwar Neel said that as soon as they got the information the BMC fire squad team reached within minutes . It took more than two hours to douse the flames.
The reason of fire yet to be ascertained. Three of the BMC employees were also injured while controlling the fire in the site, however, no major causalities was reported mainly as accident happened in wee hours ,he added. This is the second major event in a week in New Market. Recently, several shops in New Market were burnt. About 25 fire fighters had to be summoned to control the fire.
The cause of the fire is being claimed as a short circuit. The top floor was completely gutted due to the fire. The fire started on the outside of the sixth floor of the building, where the AC system was installed. The Panchanan Building is located New Market area and mostly all government offices are there in the building. The fire was so fierce that it was visible from several kilometres away.