Equestrians' team bags 7 gold, 3 silver and 3 bronze medals in 3rd Jaipur Competition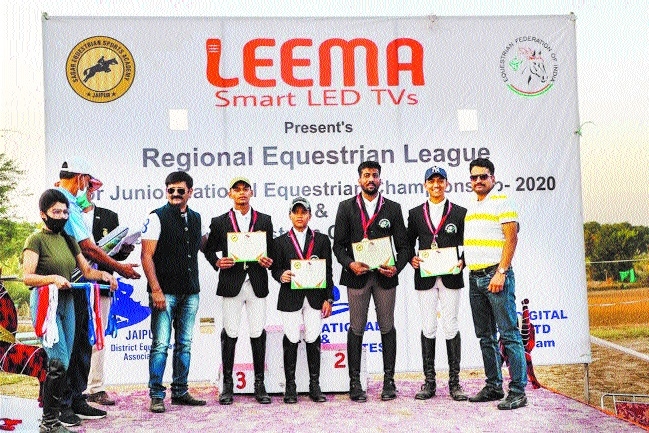 MP Equestrian team members posing with their certificates and medals bagged in the 3rd Jaipur Equestrian Competition.
Staff Reporter :
Eight players of Madhya Pradesh State Equestrian Academy bagged 13 medals in the 3rd Jaipur Equestrian Competition held at Jaipur from October 28 to 31, 2020, after a long gap due to corona pandemic. Besides, eight from the academy have also qualified for the Junior National Equestrian Competition with their brilliant performances in the Regional Equestrian League.
The Junior National Equestrian Competition will be held in Delhi from December 20 to 30. The selected players are Adarsh Rathore, Umar Ali, Bholu Parmar, Raju Singh, Mohd Hamza Akil, Anshpreet, Jyoti Vishwakarma and Akanksha Vishwakarma. Minister of Sports and Youth Welfare Yashodhara Raje Scindia has congratulated the medalists and appreciated the performance of the academy players in the equestrian competition held in Jaipur. She also congratulated the players selected for the junior national equestrian competition by encouraging them to excel in the competition.
Director Sports and Youth Welfare Pawan Kumar Jain said "After about seven and a half months of the corona period, players of Madhya Pradesh not only bagged 7 gold and 3-3 silver and bronze medals but eight players have also been qualified in the junior national competition. It has increased the pride of Madhya Pradesh." He extended best wishes to selected players for their upcoming competition.