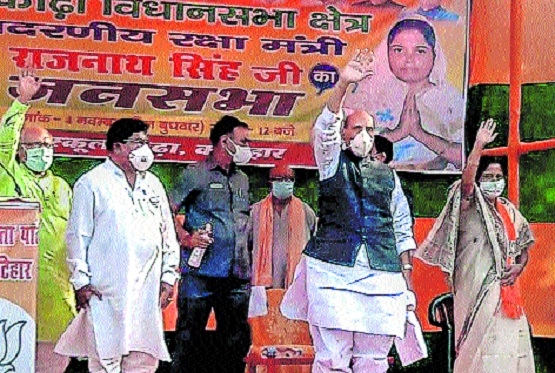 PATNA ;
CAMPAIGNING for the third and final phase of Bihar Assembly elections in which 2.35 crore voters will decide the electoral fate of more than 1,200 candidates, including the Speaker and some members of the State Cabinet, ended on Thursday evening.
The final phase of polling on Saturday will cover 78 constituencies spread across 19 north Bihar districts. Leading from the front, Prime Minister Narendra Modi addressed rallies in remote districts of Araria and Saharsa for this phase of elections, exhorting the masses to retain their trust in the NDA. He asserted that the coalition headed in the State by Chief Minister and JD(U) President Nitish Kumar was looking forward to meet the "aspirations" of people in the decade to follow, having fulfilled their "needs" in the preceding one. Altogether 12 rallies were addressed by the Prime Minister, on whom the NDA banks for performing well in the 243 Assembly constituencies across the State.
Former Congress President Rahul Gandhi also addressed election meetings at Madhepura and Araria where he raised suspicions of poll rigging dubbing the EVMs as MVMs (Modi voting machines), drawing jeers from the BJP which claimed the opposition leader had lost his nerves in the face of an impending defeat. Chief Minister Nitish Kumars rallies continued to be in the news for unsavoury happenings.
RJD chief ministerial candidate Tejashwi Yadav continued with his campaign. Poll pundits are, however, of the view that after gaining momentum in the first phase, the RJD-led Grand Alliance has lost some steam in the subsequent ones.