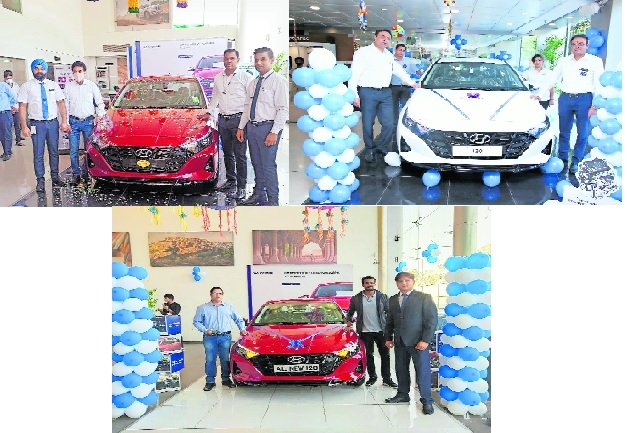 Hyundai Motor India Ltd, the country's first smart mobility solutions provider and the largest exporter since inception, launched India's most anticipated car - the all-new i20. Through its sleek styling, futuristic design, exhilarating performance, and segment-leading technologies, the all-new i20 is slated to redefine benchmarks, creating yet another iconic offering for the smart Indian customer.
The car was launched at Bigwig Hyundai in the presence of Shrikant Jaiswal, General Manager, Bigwig Hyundai; Ravindra Gaikwad, SM, Bigwig Hyundai, and Rohit Dodla, Territory SM Hyundai; at Ketan Hyundai in the presence of Prasad Pujari, VP Sales Ketan Hyundai; Leslie Salve, Senior GM, Ketan Hyundai; Surjeet Singh, SM Ketan Hyundai, and Dharmendra Gur, SM Ketan Hyundai and at Eros Hyundai in the presence of Anuj Pandey, Suraj Bhusari, Prakash Kote, and Pranali Srivastava.
With the launch of the all-new i20, Hyundai has once again redefined standards in the premium hatchback segment. The all-new i20 offers state-of-the-art technologies and flamboyant design, bringing to life an unparalleled mobility experience for new-age customers. Hyundai has packaged the all-new i20 as a future-ready car that will not just become the pinnacle of this segment but set the benchmark for automobiles in India.
Created as a Superstructure, the all-new i20 has been developed on the all-new light-weight K platform that features enhanced tensile strength while being lightweight. The all-new i20 is built on 6 core pillars:- iconic exteriors, impressive interiors, innovative technology, invincible performance, incredible safety and impeccable peace of mind.
For details, visit Eros Hyundai, Gayatri Sadan, Ghat Road, Nagpur, (9209066000, 9372252306/303); or visit Ketan Hyundai, Kachimet, Nagpur, (9822200455, 9284001525); or visit Bigwig Hyundai, Queta Colony, Lakadganj, Nagpur, (7574087877).