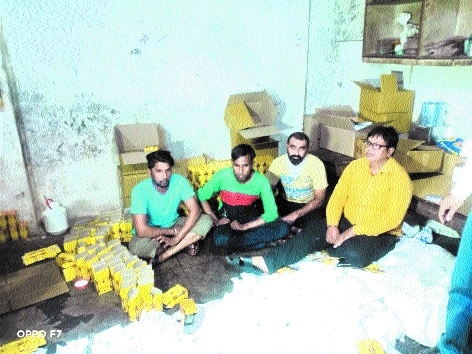 A joint team of Food Department and police officials raided a spurious ghee manufacturing unit in Jumerati market and recovered more than 4 quintal of adulterated ghee and other raw material and tools involved in making ghee.
Food Safety Officer Bhojraj Singh Dhakad told 'The Hitavada' that three people were caught red handed involved in production of adulterated ghee and were taken into custody. Food officials also recovered 1,800 litres of Vanaspati ghee, 40 cans of oil and boxes of eight different brands. A raid was carried out at manufacturing unit on Friday following specific inputs, SDM City Circle Jameel Khan said. Khan added that a case has been lodged against the owner of the factory, Shankar Batra under Section 420/467 and action was taken for manufacturing fake ghee at a factory being operated under the suzerainty of Batra. Batra is yet to be arrested.
The accused were using eight different trademarks like Anantobhog Malanpur, Bhind Anmol, Gold Jaipur Rajasthan to sell their fake ghee in the markets, the SDM said. The accused used to make ghee using refined oil, Dalda, Vanaspati, colour and essence. The accused were selling ghee packed in eight different wrappers. Samples have been taken from the factory and were sent to state food testing laboratory to check harmful substances.
No license issued by the Food Department was found at the factory and a case for operating factory in the resident area will also be registered against the accused.