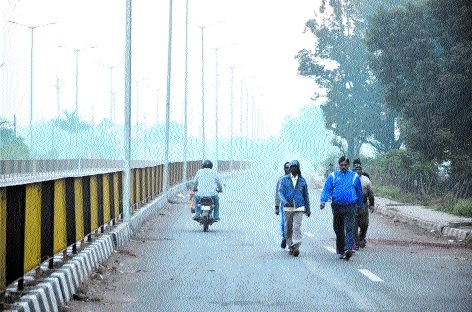 People have taken out their best woollen clothes to stay warm and safe as weather conditions have become chilly and it is difficult to be without warm clothes especially during morning and evening hours. Gradually, winter season is making its presence felt in the State. In coming days, mercury is likely to drop further.
In Bhopal, cold is being felt during morning and evening hours. With onset of winter season in the city, warm clothes are out from the cupboards. It is being expected that winter will draw strength after some days. In last 24 hours, weather conditions remained dry across the State. There was no major change in minimum temperature in the State during last 24 hours. They were substantially below normal in Shahdol division and were below normal in Bhopal, Rewa and Jabalpur divisions.
Lowest minimum temperature of 9 degrees Celsius was recorded in Umaria. Bhopal's minimum temperature was recorded at 13.2 degrees Celsius, 3 degrees below normal. Gwalior recorded minimum temperature of 11.7 degrees Celsius, 2 degrees below normal level.
Night temperature is either at normal or below normal at remaining places of State. As gradually cold is spreading its wings, warm cloth shops have started to come up in sundry parts of every city in the State. Woollen cloth shopkeepers are expecting good sales once mercury plunges in the State.