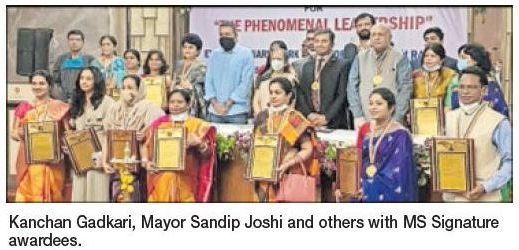 Staff Reporter ;
Nagpur witnessed the distribution of MS Signature Awards for Phenomenal Leadership and Unparallel Contribution in the field of Innovations and extraordinary service in medical science, educational reforms and innovations, architecture and engineering, agriculture and farming, language and arts, literature specially Hindi Sahitya/Marathi/Other regional language, music, dance and entertainment, science and technology, social upliftment and social work for rural development, other extraordinary contributions for Human race. 33 persons were selected for Phenomenal Leadership Award.
Academic function was facilitated by Dr Vikas Mahatme, Rajya Sabha Member, Dr Rajiv Tandon, Director, RTI International and Dr Ashok Mehere, a renowned Gandhian. Kanchan Gadkari and Sandip Joshi, Mayor graced the award function as the chief guests. The award function was conducted in the presence of Urmila Varma, wife of late Maithali Sharan Varma. The ceremony was conducted by Samira Varma and Dr Anuja Bhalerao, Dr Poonnam Shivkumar Verma conducted the proceedings. The important executive council members are – Dr Anup Shrivastava, ex-JD, Mirzapur, Dr Shobhana Varma, JD, CGHS, Vandana Shanker, Gyan Shanker and Dr V B Shivkumar. This award goes by the name of late Dr Maithili Sharan Varma who did his medical education from India. A special executive council and Jury panel is a group of highly experienced members of national as well as international level.
The Brand ambassador is from Pretoria South Africa. The two main members are from Dhaka, Bangladesh and Kathmandu, Nepal. NRIs, who are involved, are from London UK, Atlanta USA, California USA, Sidney Australia, Montreal Canada and Oslo, Norway. NGOs involved are Suwach, Debate India and others. Himashu Varma is the Master mind behind this award who is the CEO of the Suwach.
The awardees are Dr Rajiv Tandon, New Delhi; Dr Padmakar Somvanshi, Maharashtra; Dr Sheela Mane, Karnataka; Dr Kshama Kedar, Maharashtra; Sandhya Chandrasekar, Telangana; Dr Sneha Bhuyar, Maharashtra; Dr Sarita Agrawal, Chattisgarh; Dr Pushpa Jhungade, Maharashtra; Dr Rajas Dhande Maharashtra; Dr Aruna Kumar, Madhya Pradesh; Dr Purushottam Madavi, Maharashtra; Dr Arpita Jaiswal, Maharashtra; Dr Amol Singham, Maharashtra; Dr Vellanki Janaki, Telangana; Archit Rahul Patil, Maharashtra; Bharti Kamble, Sevagram, Maharashtra; Dr Vandana Singh, Uttar Pradesh; Dr Niraj Mahajan, Maharashtra; 18. Dr Lulu Fatema Vali, Maharashtra; Dr M B Bellard, Karnataka; Dr Raju Khandelwal, Maharashtra; Dr Aparna Wahane Borkar Maharashtra; Dr Aparna Hegde, Mumbai; Dr Alok Sharma, Himanchal Pradesh; Dr Pravina Deshmukh, Maharashtra; Dr Prajakta Aswar, Maharashtra; Prakhar Shrivastava, Maharashtra; Dr Anubha Vidyarthi, Jharkhand; Dr P Vibhutwar, Maharashtra; Rajasekar T, Tamil Nadu; Dr Sohael Khan, Maharashtra