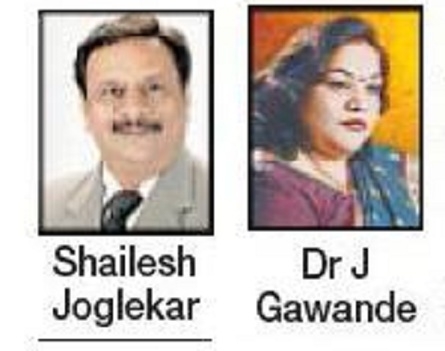 Staff Reporter :
Vidarbha Gaurav Pratisthan will honour Honorary Secretary of National Cancer Institute (NCI) Shailesh Joglekar and noted actress Prof Dr Jayashree Kapse Gawande with 'Smita Smruti- 2020' award on December 14, birth anniversary of late film actress 'Padma Shri' Smita Patil. The award comprises Rs 21,000 cash, shrifal and a memento. Joglekar is Swayamsevak of RSS.
He was associated with Rotaract Club, VHP. He was instrumental in establishing Bhosla Military School and he served as its Secretary from 1996 to 2017. Along with former Chief Minister Devendra Fadnavis and Dr Anand Pathak, Joglekar set up NCI. He is its Honorary Secretary.
Dr Jayashree Kapse Gawande hails from Chandrapur. Her 'Rangbawri' play had received first prize in State Government's 54th Hindi Drama Competition in 2017. In 2018 and 2019 her 'Nothing to Say' and 'Hello Radha Mi Rehana' plays won first prize respectively.