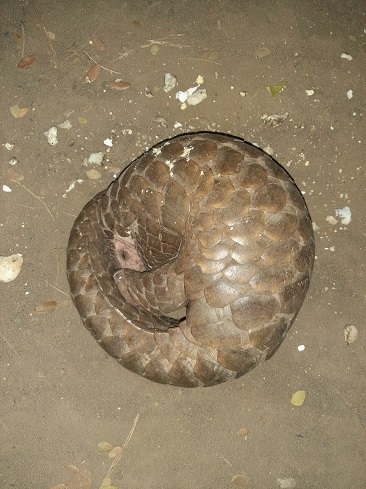 Staff Reporter :
The raid was conducted by a combined team of Wildlife Crime Control Bureau and Shahdol Forest Division
In another trap, a combined team of Wildlife Crime Control Bureau (WCCB) and Shahdol Forest Division nabbed five poachers and rescued a live pangolin from them. The pangolin species is protected under Schedule-I of Wildlife Protection Act 1972. The arrested have been identified as Heeralal Gond (36), son of Rampratap Singh, resident Hadha village, Budhar in Shahdol, Omprakash (38), son of Darbari Lal, resident of Hatgala village in Shahdol, Lallu (35), son of Bablu, resident Bhumka village, Korea in Chhattisgarh, Dharmendra Singh (28), son of Maan Singh, resident of Nakpura village, Jaitpur in Shahdol and Samarjeet Singh (31), son of Mahaveer Singh, resident of Khohra village, Jaitpur in Shahdol.
WCCB Central Region Jabalpur, Inspector, Devendra Singh Rathore, while talking to 'The Hitavada', informed that conducting a special campaign against wildlife crime, WCCB received information about some suspects engaged in poaching and trading of wildlife. Taking a serious concern on the information, officers of Shahdol Forest Division were contacted and a search was conducted.
Once the information was confirmed, a combined team of WCCB and Shahdol Forest Division was constituted under the direction of senior officers. Continuing a rigorous search, team arrested the poachers while they were trying to transport the wildlife for trade. Team seized a live pangolin from the poachers. It may be noted that the WCCB earlier rescued a live pangolin weighing around 15.6 kilogram in March 2020.