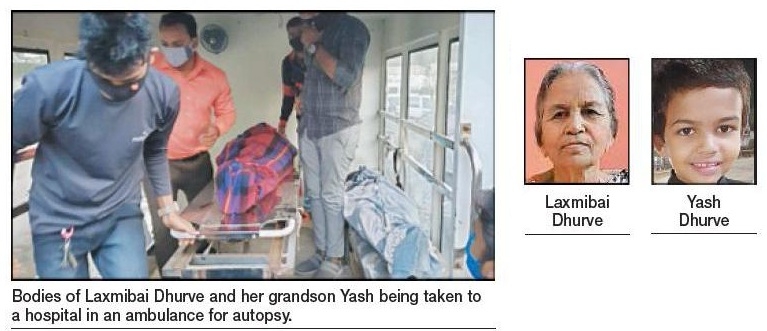 Special Correspondent :
The underage double-murder accused, who belonged to other faith, is at large
A SNUBBED lover brutally hacked to death his girlfriend's 65-year-old grandmother and 10-year-old brother with a knife creating sensation at Hazaripahad in Gittikhadan area, on Thursday afternoon. After slitting throats of deceased Laxmibai Maruti Dhurve and her grandson Yash with a sharp-edged knife in their house at Shrikrishna Nagar, Hazaripahad, the boy in conflict with the law fled the spot. Preliminary investigation revealed that the teenage boy had an affair with Laxmibai's granddaughter, who too is a minor. The boy and girl used to meet quite often, it has been learnt. The girl's father Manoj Dhurve works at a paint shop.
She had earlier taken admission in a college on Amravati Road after doing her HSC. Later, the girl left education when she could not clear the exams. When Laxmibai came to know about her granddaughter's friendship with the boy, she objected to it. The girl's parents, too, were against her friendship with the boy as they belonged to different faiths. To keep her away from the boy, the girl's parents had kept her at a relative's house near Raj Nagar for a few days. As the girl stopped meeting him following instructions from her grandma, the boy lost his temper. He decided to teach Laxmibai a lesson as she was becoming an obstacle in their affair. On Thursday afternoon, the accused went to meet the girl but was prevented by Laxmibai from entering into the house. The girl's parents were not at home. A heated argument broke out between the boy and Laxmibai resulting in a scuffle.
After Laximibai fell down, he took out a knife and slit her throat. Yash, who was with his grandmother at the time of attack, started screaming. The boy then caught Yash and slit his throat too with the same weapon. Before Laxmibai and Yash could get any medical aid, they succumbed to their injuries. Staff from Gittikhadan Police Station led by Senior Inspector Sunil Chavan rushed to the spot after neighbours informed the cops. Senior officers, including Additional Commissioner of Police (North Region) Naveenchandra Reddy and Deputy Commissioner of Police (Zone-I) Vinita Sahu arrived to supervise the probe. A team of Crime Branch also visited the spot.
After conducting 'panchnama,' cops sent the bodies to Mayo Hospital for autopsy. Gittikhadan Police registered a case under Section 302 of the Indian Penal Code against the killer and launched a search for him. The accused's mother told investigators that her son was 17 years old, a police officer said. She informed police that she was unaware about his whereabouts, he added.