City lad's tale of innovations: From monitoring race-car vitals to human health parameters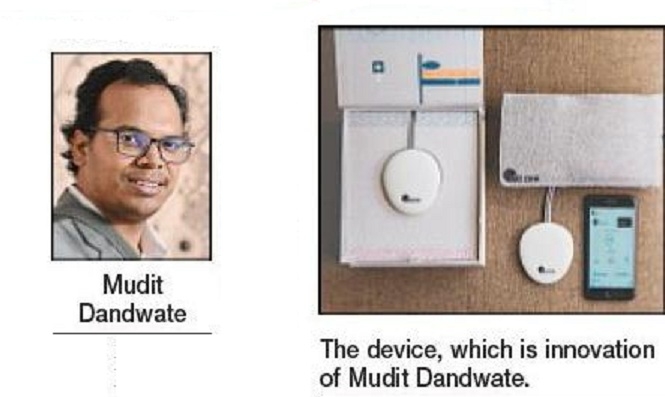 By Kartik Lokhande :
Mudit Dandwate's tale is that of an innovator, survivor, and now health-tech entrepreneur. He was part of the team that used technology to monitor race-car vitals. Later on, he met with an accident that he survived. Now, he has innovated a device that helps in monitoring human health vitals. Born in Nagpur, Mudit is son of Sadanand Dandwate, who retired as Station Engineer from Doordarshan, and Rekha, who is a housewife but does commodity trading too. He did Mechanical Engineering from IIT-Mumbai in 2013. "I was involved with race-cars. We used to create race-cars and take those to the United Kingdom. Later on, I joined a company that was into race-car simulations.
We used a lot of technology to monitor race-cars," Mudit told 'The Hitavada. As a Chief Vehicle Dynamics Officer at IIT-Mumbai, Mudit designed, built, and raced four full-scale race-cars including India's first electric race-cars. Later, he worked as Vehicle Dynamics Expert at Altair Technologies, a global technology company. There, he developed and marketed an Artificial Intelligence (AI) powered autonomous race car driver that once hooked to car software drove the car autonomously using sensors. The software was later sold to automobile majors like Porsche, Chrysler, and Honda. Being a sensitive person at heart, Mudit decided to move on to next innovation in healthcare technology. He decided to extend his experience of working in vehicle dynamics, to human health. "Healthcare should be so non-intrusive in nature that it can be exercised on daily basis. Vibrations tell a lot of things. Considering these aspects, we developed contact-less device, which can be placed under the bed. It monitors a lot of parameters with clinical grade accuracy," he informed. Mudit launched a company and became Chief Executive Officer and co-founder of Dozee, which is also the name of the device.
His company launched the device last year. COVID-19 gave Dozee the opportunity to re-purpose the device. The device came in handy during pandemic situation as it converted hospital beds into step-down ICU to measure patients' vitals continuously. The device has a sensor that captures micro-vibrations produced by body everytime the heart pumps blood, during inhalation, exhalation, muscle twitches, tremors and body movements. So far, Dozee devices have been installed at Indira Gandhi Government Medical College and Hospital, Government Medical College and Hospital at Nagpur, Victoria Hospital, and ESIC Hospital.
According to him, the device reduces risk of infection from patients as healthcare workers are not in direct contact with them, optimises time and productivity of nurses who otherwise spend a lot of time checking patient vitals and updating them manually throughout the day, and reduces need for several devices per bed. Mudit said, "It helped thousands of patients in getting proactive care, as they could be timely shifted from HDU to ICU, due to effective monitoring of vitals." In 2020, Dozee has won Startup Award, 'Nasscom Emerge 50' and also Anjani Mashelkar Award for innovation in the field of medical devices. His parents reside here, but most of the time Mudit is in Bengaluru, his workplace. His elder sister is in Netherlands. A young man, who got married earlier this year, does not want to stop. He is busy working on enhancing Dozee to bring in even more parameters so that more patients can benefit. Also, he is working to integrate more services in and outside hospitals etc, and also on modifying the device for household use. In his own words, "Lot of lateral innovations are happening."
A Survivor's Tale In 2017, Mudit met with an accident. "My dog accidentally jumped into a lake in Bengaluru. When I tried to save my dog, a crocodile in the lake chewed off my left arm under the elbow," he recalled. However, being a person not to be bogged down by challenges, he developed his own thought-controlled Bionic Arm. The arm is fully functional and he is regularly using it in all his chores for last two years.
Cricket bat with 3D edges An innovator, Mudit also designed an MCC-approved cricket bat with 3D edges that reduces the vertical velocity of cricket ball after hitting an edge, leaving 30 per cent less time for wicket-keeper or slip cordon to react. The cricket bat was licensed by Slazenger and is still in use.