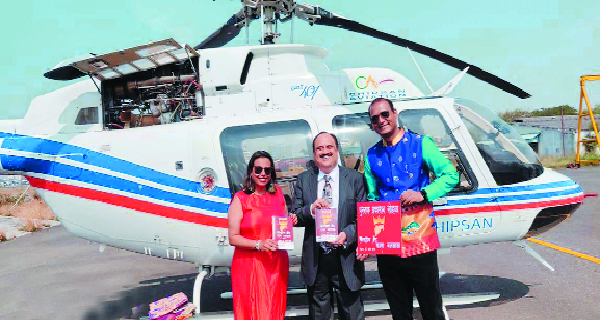 ENTREPRENEURS plays a vital role in growth of country's economy, but the pandemic period had brought entire world to a stand-still for few months.
Maharashtra being the biggest contributor to the Indian economy, in corona pandemic, Maharashtra Business World suffered a lot. But the entrepreneurs always do struggle to sustain and grow their business. To salute this spirit of entrepreneurship and display the courage, Arthsanket has launched its book 'How to Make Popular Lokpriya Brand'. It would be a great boon for all those who are setting their foot in the 'Venture Domain' and also for those who are already the established players in the business landscape says, Sanjeev Pendharkar, MD of Vicco Laboratories with positive vibes. The book was published on December 22, 2020 in the helicopter.
Amidst the corona crisis, when businesses seem to be nose-diving and economy is shaken, this book is an attempt to serve the entrepreneurs, both building and established through effective knowledge sharing and resources that would support them on their path to entrepreneurship.
The book is an infinite source of creativity, joy and learning. "Book has been a powerful influence in our lives and we want to inspire the next generation in a positive and safe way," he said.