Picture of the ESIC Hospital staff taken in the year 1975.
By Vikas Vaidya :
The hospital being run by Employees State Insurance Corporation (ESIC) in Nagpur popularly known as 'Vimyacha Dawakhana' is shedding its old image in its 50th year. Till a few months ago it was facing not only financial crunch but also several hurdles related to treating patients. The scheme was started in Maharashtra in 1954 and Nagpur became the first to get to run the scheme while the hospital came up in 1970. Now the hospital is procuring several new healthcare facilities along with advanced equipment. ESIC is a self-financing social security and health insurance scheme for industrial workers. The finances are managed by ESIC according to rules in the ESI Act 1948. The ESI Act envisaged an integrated need based social insurance scheme that would protect the interest of workers such as medical, sickness, maternity, disability, dependency and funeral benefit.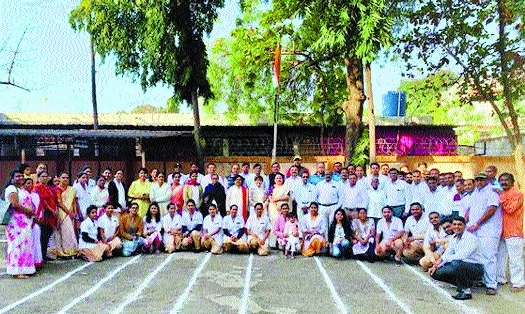 The group photo of the ESIC Hospital staff in the year 2020.
The act also guarantees medical care to them and their dependents. Health being a State subject, the medical care to the workers is delivered by State Government through ESIC service dispensaries and ESIC hospitals under department of public health. The scheme was started on July 1954 for the first time in Maharashtra at Nagpur. The stone of ESIC Hospital at Nagpur was laid by the then Governor P V Charian on July 5, 1966 and the hospital building was inaugurated by Vasantrao Naik, the then Chief Minister of Maharashtra on December 28, 1970. Former Minister Narendra Tidke presided over the function. This 200-bedded hospital is the only ESIC hospital in entire Vidarbha covering 3,57,570 insured industrial workers. Initially the hospital had no Out Patient department (OPD) and patients were directly referred from dispensary for admission to this hospital.
The hospital did not have full time specialist at that time but eminent doctors from private sectors in the city worked here like Dr V B Deshmukh, Dr V D Choudhary, Dr S P Naidu, Dr (Mrs) Naidu, Dr Bhargava, Dr Kelkar and Dr R N Chaudhary, etc. First batch of fulltime specialists was recruited in 1985. The hospital was running very efficiently and to the full capacity for two to three decades. The hospital had its Ultra Sonography (USG) machine installed in July 1992 which was first USG machine in Government Sector. Later on textile mills in Nagpur and Hinganghat like Empress Mills and Model Mills were closed. Meanwhile , the process of handing over this scheme to ESIC was initiated because of problems in administration as there was duel control of State Government and ESIC. To get over the deteriorating services to insured workers because of scarcity of staff, instrument and equipment the ESIC scheme was converted into Maharashtra ESI Society. So Society would get direct funds from ESIC and will be self-sufficient in appointing staff & procuring equipment. After formation of society this hospital has got new C-arm machine, Cell counter and Ambulance.
The process of purchase of other equipment and instrument is going on. Recently, the hospital recruited nine part time specialists on vacant posts. Also, it has recruited Group C and Group D staff from GeM for the hospital on contract basis. Dr Meena Deshmukh, Medical Superintendent of ESIC Hospital said, "In view of the coronavirus scare we are celebrating our hospital's golden jubilee on a lower profile without crowding and maintaining social distancing." Looking at all these ups and downs the hospital administration is trying very hard to regain the lost glory of hospital, she said.