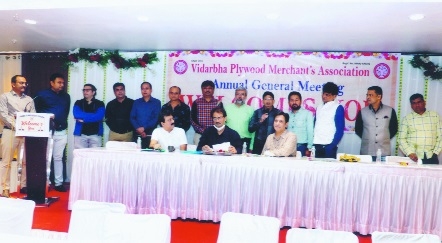 Business Bureau :
THE Vidarbha Plywood Merchants' Association recently organised its annual general meeting (AGM). In the meeting, the members elected the new executive body for the year 2020-2022. The members elected Yogesh Bang as their new President and Anil Sarda as Secretary. The other newly elected members consisted of Rajesh Amte, Treasurer, vice-presidents Saqib Parekh, Ranjeet Thakar and Joint Secretary Mukund Patel.
The Executive Committee Members includes Deepak Agrawal, Amrish Agrawal, Dhiraj Patel, Nilesh Patel, Shyam Sadani, Manoj Patel and Jagdish Patel. The outgoing President Rajesh Patel elaborated all the events which were successfully held during his term. Outgoing Secretary Saqid Parekh conducted the proceedings.
The newly elected President and Secretary thanked the whole team, trade body representatives, accountants, auditors, office staff, sponsors, advertisers and project directors of various events for the overwhelming support and co-operation. They also thanked all the members for their love and support during their term. They also assured them that they would take the association on a progressive path in the coming two years, informs a press release issued here. The election officers Vijay Bagri, Pravin Punyani and Ajay Rathi conducted the proceeding related to election and declared the result in which the members were elected unopposed . The Vidarbha Plywood Merchant's Association is active from the past 30 years and deals in plywood, laminates, veneers, Fevicol, and other products.