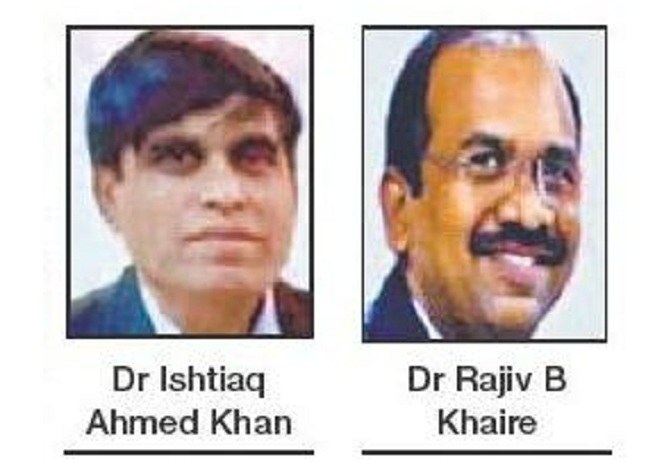 Business Bureau :
SHRI Ramdeobaba College of Engineering and Management (RCOEM) Nagpur in association with GIZ India and MIDC Industries Association (MIA) Hingna recently organised an exclusive webinar on 'Industry 4.0: Insights through RCOEM CIIIT' by Dr Ishtiaq Ahmed Khan, Senior Project Manager, TATA Technologies. The objective of this webinar was to make aware about the world class technologies that RCOEM-TATA Centre for Invention, Innovation, Incubation and Training (CIIIT) offers to students, researchers and industry professionals based on Education 4.0 and keeping in mind the future needs. 'Industry 4.0' comprising of Autonomous Robots, Simulation, Industrial IOT, Augmented Reality, Additive Manufacturing, Big Data Analytics etc., setup has been designed.
The state-of-art CIIIT has been started to inculcate the culture of invention, innovation and skill development which will enable the future generations of technocrats with up-to-date knowledge and tools, thus giving a boost to industry-academia collaboration and aiding the local ecosystem. The webinar was initiated by C G Shegaonkar, President of MIA Hingna Nagpur. It was followed by an introduction about RCOEM by Dr Rajiv Khaire, Dean – III Cell. Dr Rajiv Khaire emphasised about the ecosystem that the institute has developed through RCOEM TBI Foundation, a Section 8 Company. The webinar continued with the introduction of Dr Ishtiaq Khan followed by general instruction remarks by Dr Ravindra Aher, Consultant - GIZ India. Dr Ishtiaq Khan, speaker for the webinar talked about the modern technical facility and skill development training that is being offered by RCOEM-TATA CIIIT that comprises of the most of the prerequisites that are essential qualifications for under graduate (UG) and post graduate (PG) students for employability and placement in multi-national companies.
He added that the students trained at CIIIT will eventually be either absorbed as skilled resources in the industry or they would be self-sufficient to become entrepreneurs. He said, "Keeping in mind the product life cycle and development and to imbibe the same through required skills and knowledge, two main centres with cutting edge technology tools, equipment and machinery are being offered at CIIIT namely- Innovation Design and Incubation and Integrated Advance Manufacturing Centre." There are other advanced laboratories at RCOEM-TATA CIIIT like – Digital Manufacturing, Multi Body Dynamics, Product Life Management, AR-VR and Machine Learning, Industrial Robotics and Sensor Technology centre etc., with modern machines and contemporary software essentials for Industry 4.0 and Education 4.0, he added. Dr Khan elaborated on the enrollment and registration for CIIIT training and skill development competency courses which has been started from June 2020. Dr Khaire said that the CIIIT caters to enhance the skill of various branches of engineering and appealed students, industry people and researchers alike to take maximum benefit of this exclusive CIIIT. It also offers research opportunities to PG and Ph.D. research scholars in multi-disciplinary domains of Industry 4.0. The webinar concluded with the question-answer session.