Amravati Division Teachers' Constituency polls: Sena's Shrikant Deshpande trailing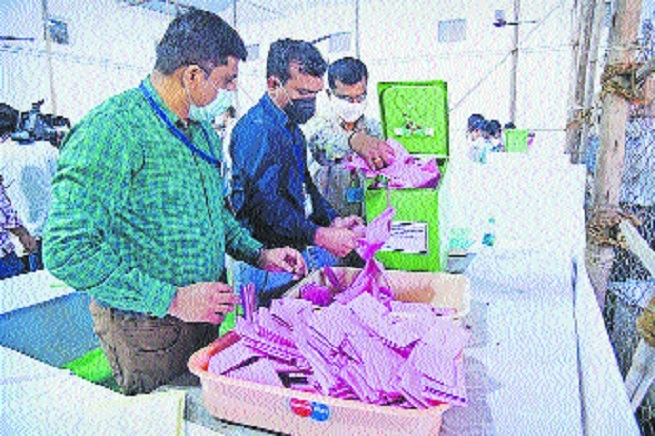 Polling officers removing ballot papers from a ballot box at Government godown in Amravati.
After second round of counting, Washim's Kiran Sarnaik was leading by a margin of 966 votes
In Amravati, sitting MLC and Shiv Sena candidate Shrikant Deshpande was trailing in the first round of counting of votes in the highly contested Amravati Division Teachers' Constituency election, when reports last came in. Independent candidate from Washim, Kiran Saranaik was at first position. After the completion of first preferential votes the quota required for victory was finalised at 14,916 votes.
At the time of filing this report, the second round of preferential votes had started, the result expected only by Friday morning. According to the results received till late in the evening, Kiran Saranaik had polled 6,088 votes and Shrikant Deshpande 5,122 votes. Incumbent Deshpande's position came as shock to for supporters. The counting of votes started from 8 am on Thursday at the Government godown in Vilas Nagar in Amravati city on 14 tables in two rooms. All the ballot papers were collected in a bundle of 25. Total 1,000 votes were counted on each table out of 40 bundles. Ballot papers were classified according to first preference votes. Results of the first round were announced at 3 pm.
As none of the candidates completed quota of 14,916 votes in the first preferential votes, the counting of second preference vote has started. Vinod Meshram was eliminated after the counting of first preferential votes as he was at the bottom. Counting of his second preferential votes was started at the time of filing of this report. In the first round, 14,000 first preference votes were counted. Saranaik, who is the president of Amravati Divisional Teachers' Union, had taken a lead with 3,131 votes. Deshpande came second with 2,300 votes. Shekhar Bhoyar of Shikshak Mahasangh was third with 2,078 votes and BJP candidate Dr Nitin Dhande had fallen to the to seventh position.
After the counting of remaining 29,829 votes in the second round, Sarnaik stretched his lead margin to 966 votes. For the first time in the history of Teachers' Constituency, a record turnout of 86.73 per cent was witnessed for this election which had Shiv Sena (Mahavikas Aghadi) and BJP candidates facing each other. Teachers' unions were also in the fray with full vigour. The candidates of Vidarbha Madhyamik Shikshak Sangh, Maharashtra Rajya Shikshak Parishad, VIJUCTA and other new teachers' unions have done well in this election so far.
1,089 votes invalid
Out of total 30,918 votes polled to elect MLC from Amravati Division Teachers' Constituency, 29,829 were declared valid and 1,089 invalid. The number of invalid votes is surprising as the voters are all teachers. Many voters had kept the ballot paper blank while some also wrote NOTA on the ballot paper.
Leads in Amravati at the
end of second round
of preferential votes
Kiran Sarnaik (Ind) - 6,088
S Deshpande (SS) - 5,122
Shekhar Bhoyar (Ind)- 4,889
Sangeeta Shinde (Ind)- 2,857
Avinash Borde (Ind) - 2,747
Nitin Dhande (BJP)- 2,127
Nilesh Gawande (Ind)- 2,122
P Kalbande (Ind) - 1,219