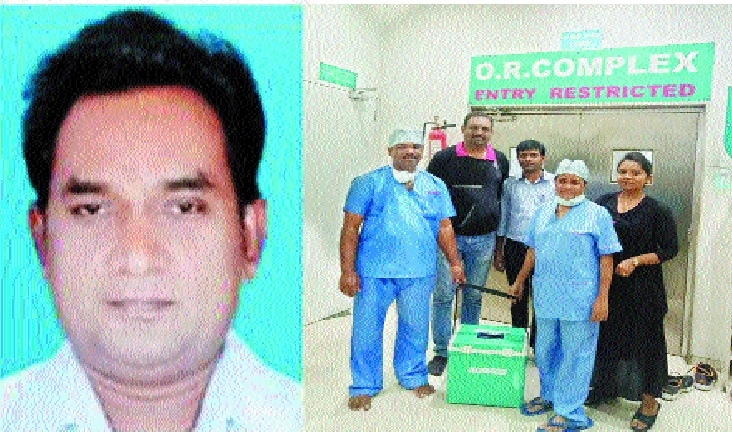 Baburao Tungapindi Organs being carried to other hospital from Meditrina Hospital.
Principal Correspondent :
A patient named Baburao Tungapindi, age 42 years, a resident of Ordnance Factory, Chanda, Bhadravati, Chandrapur suffered an acute stroke and went into coma. Team of doctors at Meditrina Hospital endeavored but could not save him. His young family came up with tough decision to donate organs. It was difficult for the doctors and social workers to counsel them for organ donation. But the family members themselves came forward and expressed, 'When he was alive he helped the society and in death he helped his fellow human beings'.
Those organs of head of Tungapindi family gave a new lease of life to three persons. Baburao Tungapinidi was admitted at Meditrina as a case of acute stroke. All efforts were made by Dr Sameer Paltewar, noted Neurosurgeon and his team. Despite all efforts, patient could not be saved and was declared brain dead. The family was in deep grief and it was difficult to counsel them in that situation.
His wife Shabana and sister Vajra, Salim Sayed, Sanjay Anand volutarily expressed their desire for organ donation of all the suitable organs. While narrating the altruistic nature of BSD donor his sister and family members talked about the selfless nature of the deceased patient who was always helping the young students by teaching mathematics free of cost. The deceased was instrumental in carving out careers of a lot many young people around him. His family members emotionally said that "in life he helped the society and in death he helped his fellow human beings."
They further eulogized the human nature of the deceased by saying that it must be his soul who gave this idea of organ donation of his own body. Everybody in the hospital present saluted that great human being who had been living all his life for others. After the information from Meditrina Hospital, Zonal Transplant Coordination Committee (ZTCC) swung into action. Dr Vibhavari Dani, President; Dr Sanjay Kolte, Secretary gave consent and Veena Wathore, ZTCC coordinator coordinated. An honor corridor was created for the last journey of this great human from Meditrina Institute of Medical Sciences to his heavenly abode. Baburao Tungapindi donated two kidneys, liver, pair of corneas.
One kidney was allotted to Meditrina Hospital to a 56 year old female. Second was given to another female of 46 years old at Wockhardt Hospital. Pair of corneas given to Madhav Netra Pedhi. Under the able guidance of Dr Sameer Paltewar the kidney retrieval and transplant team of Meditrina including Dr S. J. Acharya (Nephrologist) Dr Piyush Kimmatkar, Dr Anagha Kulkarni (Uro surgeon), Dr Dhanajay Bokare (uro surgeon), Dr Kunal Meshram (Uro Surgeon), Dr Sandeep Khanzode, Dr Deepak Madankar, Dr Nilesh Mathankar, Dr Sheetal Deshmukh. Dr Ritesh Borkar did the procedure. Liver retrieval and transplant was also done at Meditrina by Dr Ravi Mohanka; Dr Prashanta Rao, Dr Ankush Golhar, Dr Vinayak Nigam, Dr Deepak Madankar; Dr Nilesh Mathankar, Dr Sheetal Deshmukh, Dr Ritesh Borkar, Intensivist; Dr Ajay Bulle, Dr SohalParate, Radiologist Dr Lalit Nirwan, Cardiologist; Dr Akshay Dalal, Pulmonologist Dr Nainesh Patel, Neurologist Dr Amrit Bansod; Transplant Co-ordinators of Meditrina; Dr Ashish Anwikar, Dr Yuvraj Nagpure, Dr Ved Sarangpure; Managers: Dr Amrita Sharma, Dr Mangesh Gorantiwar, Arpan Pande, Megha Dixit; ICU Co-Ordinators, Dr Kuntal Deshmukh, Dr Pravina Thaware, Operation Theatre Team: Alnaz Jiwani, Manisha Ergurala, Manjusha, Jaya, Smita, Asha, Khushal, Badal, Sachin, Dilip, Amit, Narendra, Akash Patil, Gajanan Other Supportive Staff include Vicky, Madhav. Wockhardt Kidney Retrieval and Transplant Team include: Dr Sanjay Kolte, Dr Surjeet Hazra, Dr Awantika Jaiswal; OT Team Sukeshni, Jijo, Ramesh, Kajal, Sanjay Moon, Prashant; Transplant Co-ordinator: Payal Katre; Medical Administrator: Dr Vikas Choudhary; Centre Head: K Sujatha.