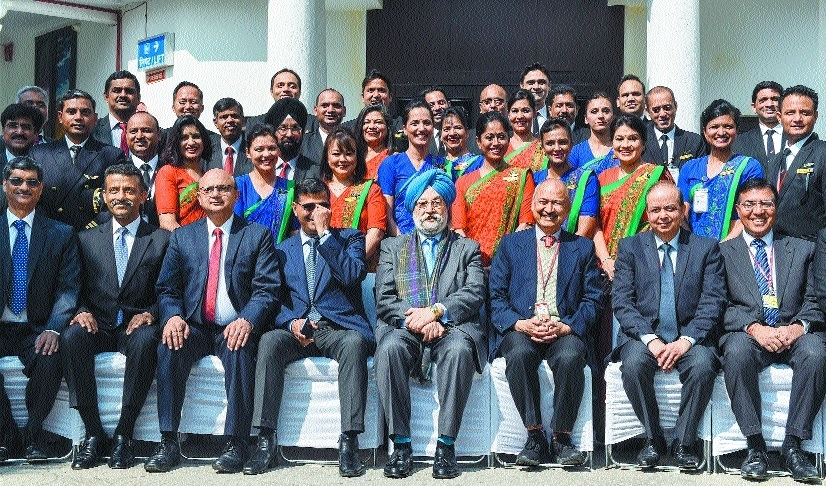 A TOTAL of 68 Air India crew members, who were part of the two special flights that evacuated 647 Indians and seven Maldivians from coronavirus-hit Chinese city of Wuhan, were handed over letters of appreciation signed by Prime Minister Narendra Modi on Monday. Aviation Minister Hardeep Singh Puri handed over the letters of appreciation to each crew member in a ceremony held here.
Air India conducted its first special flight to Wuhan on January 31 using jumbo B747 plane, evacuating 324 Indians. In its second special flight on February 1, the national carrier used another B747 plane, evacuating 323 Indians and seven Maldivians from Wuhan in China.
"Today's gathering is unique in many respects. At the least, it represents a template and a new high in professionalism. It presents a very good standard for entities that are commercial in nature but are dedicated to the country. "Air India has always been a first class asset. Today, it is an airline which goes 42 international destinations and 82 domestic destinations...But more important than that, Air India represents quality and excellence," Puri said.
No problem in AI's disinvestment, says Puri: Air India's disinvestment will not face any problems this time as the interest shown by prospective buyers has been reassuring, Aviation Minister Hardeep Singh Puri said on Monday. He said that the Government wants Air India to keep flying as a brand for years to come. The minister also assured the employees at Air India that their requirements would be foremost in the airline and factored in whatever arrangement is decided with the successor.